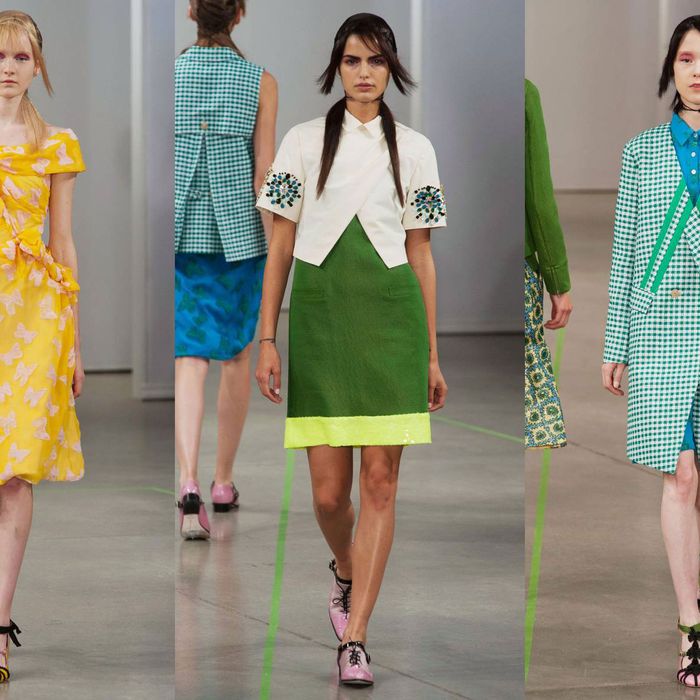 Chicago-based label Creatures of the Wind, composed of partners Christopher Peters and Shane Gabier, are clearly enjoying a the fruits of their CFDA/Vogue Fashion Fund runner-up status (for which they were rewarded with a J.Crew capsule collection and lots of visibility). Their very first runway show at Milk today was packed full of front-row A-listers like Hamish Bowles, Linda Fargo, Julie Gilhart, André Leon Talley, Susie Bubble, and other top buyers and editors — basically, everyone who really matters — plus a crowd of eager folks who were more than willing to stand in the back to see the clothes.
The collection itself struck a balance between cute and experimental, with lots of structured, brightly colored fabrics and boxy cuts. Models wore funky hairdos held up with netting, their eye makeup pink and Russian-doll-like. All the skirts — which varied in length from mid-thigh to ankle — were roomy and comfortable-looking to the point where they bordered on matronly; an oatmeal-colored one had a scarlet under-layer barely peeking out the bottom, like what a Christian Louboutin would probably do if he made hemlines.
And instead of color-blocking, which was huge last spring, the designers sewed strips of contrasting fabrics onto lapels, seams, and hemlines, which made for punchy color combinations. There were also lots of bows — both large ones tied with sashes as well as little grosgrain ones on the shoes —  and fuzzy pink butterflies festooned a ruffly yellow dress and skirt. Some details called to mind Prada's fall 2012 collection, like the big jewel embellishments and the diamond-print jacquard, which may very well become trends that carry over into the spring season. It was, overall, a really cheerful and well-executed bunch of clothes, and it's always encouraging to see talented non–New York designers getting some attention.