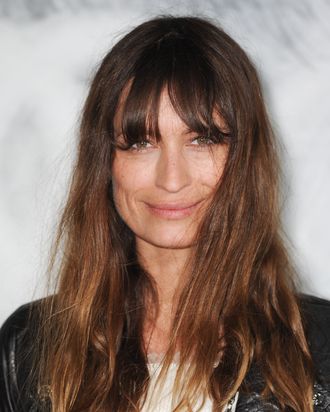 Photo: Stephane Cardinale/People Avenue/Corbis
Everyone in line to get into last night's Jacquemus show at Place de Vosges was, of course, dressed cooler-than-thou — think few colors other than black and hats ranging from skull caps to bowlers. So cool, in fact, that no one was snapping pictures, though they'd obviously spent time getting spiffed up (or grunged down, depending on how you look at it). French "It" girl, model, and music producer Caroline de Maigret (nearly unrecognizable in Lana del Rey's recent take on "Blue Velvet") also dressed the part, wearing a motorcycle jacket with sharp shoulders and faded jeans. As a muse for 22-year-old designer Simon Porte Jacquemus's previous spring/summer collection, which was promoted with an odd video of De Maigret tending a herd of dogs, we'd come expecting to see her.
After the show — featuring sheer, white, long-sleeved dresses with mock turtlenecks and structured overall skirts paired with black Doc Martens (reminding de Maigret of Jil Sander) — she felt positive, calling the offerings fresh and conceptual. "I believe in Simon," she told the Cut. "I think he still needs some time, but I'm following him because I know that the more he works, the more interesting it's going to get. It's definitely going to be something really good." What else is she up to this week? "I have some interviews for Chanel; I'm going to be the one interviewing people. Earlier today I saw Anthony Vaccarello. Thursday I'm going to see Isabel Marant; and I'm going to see Chanel and Haider Ackermann and that's all. I'm just going to see my friends. And I also have some photo shoots to do, but I can't talk about that beforehand — have to wait until they come out."
What she does want to talk about are the artists signed to Bonus Tracks Records, a label that she manages along with her partner (business and otherwise), Yarol Poupaud. "Tomorrow Black Minou is playing at Le Lautrec in Pigalle. You have to come, it's super!" she insisted. "It's rock and roll, it's soul. It's in the basement of the bar." And it's at 10 p.m. and open to the public, for those of you in Paris without an invite to Gareth Pugh's after-party.