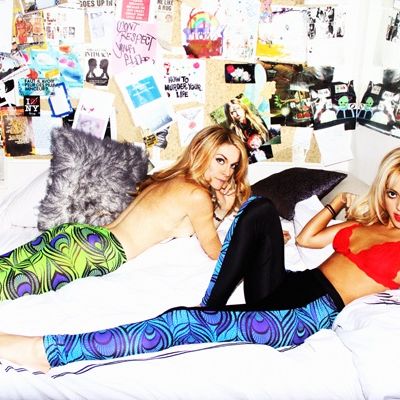 Leah McSweeney (left) and Cat Marnell.
Photo: Courtesy of Prince & Jacob/Lovecat Magazine
Infamous beauty writer Cat Marnell appears in Married To The Mob's new leggings campaign along with the label's designer, Leah McSweeney. Their press release quotes Marnell:
As one of my favorite Married To The Mob t-shirts proclaims: I WANNA MOB WITH THE MOST OFFICIAL BITCHES—and the most official bitch of them all is Leah McSweeney… I love this hot bitch; I love everything she makes, and I love Lovecat magazine's Prince and Jacob, who shot these ill photos. I write about controversial shit, but at the end of the day, creativity is the fucking drug, man—it's what downtown, MTTM, and our circle of friends is all about. Get involved! Incidentally, you can start by buying some leggings.
That's some marketing, folks! 
Related: 
Cat Marnell on Jane Pratt, Her Book, and Splitting From xoJane.com
142 Minutes With Cat Marnell