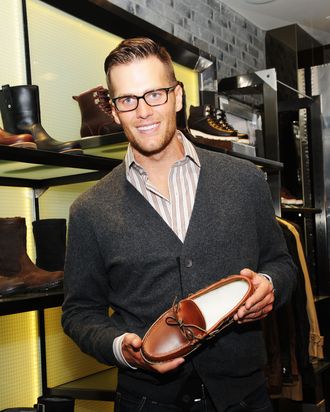 Photo: Desiree Navarro/2012 Desiree Navarro
Men have claimed a surprising victory in "the fight for gender equality" in a "place where one might least expect it," the New York Times reports. Nope, it's not paid paternity leave. It's not a male birth control pill, either. Finally, men are being treated as equal to women when it comes to shopping for clothes and accessories.
"Men are demanding better service," the Times writes, "and retailers are providing it."
Men's clothing sales have recovered faster than women's during the recession, and as a result, brands across the price spectrum — Lanvin, Christian Louboutin, Club Monaco, Ralph Lauren, J. rew, and even Ugg are providing men a store of their own at last. (Maybe it's a matter of leisure time; most of the jobs lost in the recession were held by men.) You can tell the men's stores from the women's stores because the décor is darker, a "track from the Rolling Stones album 'Exile on Main St.' or 1960s reggae" is playing, there are plenty of chairs, ("guys like chairs, which create the impression that it is fine for them to hang out in a store"), and no one bothers you.
"Women like to be helped, while men like to help themselves, but be guided," Coach senior vice president Greg Unis told the Times. "They don't want to be pounced on when they first walk into the store."
Good work, Greg. We women love being accosted by salespeople. Must be a Mars, Venus thing.