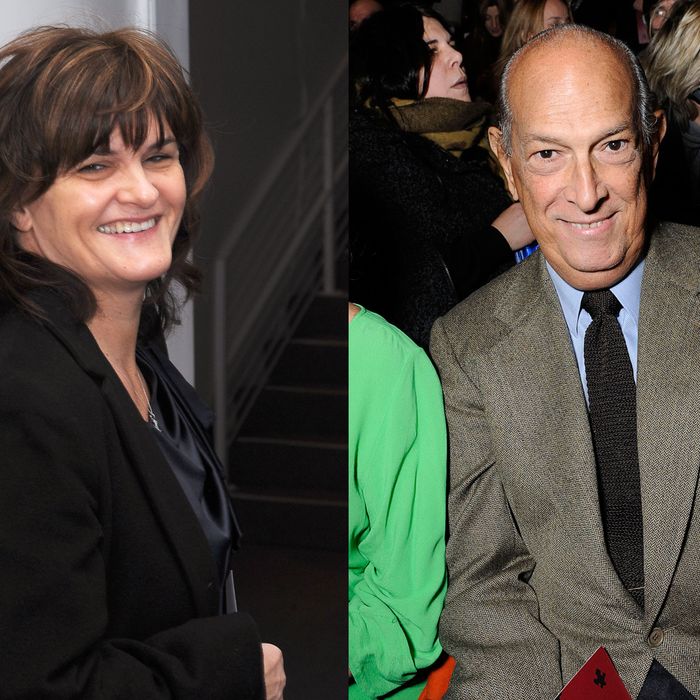 Cathy Horyn and Oscar de la Renta.
Photo: Getty Images
Oscar de la Renta's indignant "open letter" to Cathy Horyn, published as a full-page ad in WWD on Friday, attacked the journalist for what he deemed "personal criticism" in her review of his show. You see, she called him a "hot dog," meaning one who showed off his skills (should you be unfamiliar with the usage of this expression, as many people were, some cursory Googling would have cleared it up for you). But de la Renta apparently thought she was calling him an actual, literal hot dog, as in the meat product. This interpretation, in addition to making no sense, runs counter to all the positive words in Horyn's review, including the following enthusiastic descriptors: "lively," "sleek," "wonderfully cantankerous," and — yes — "gooey." Even if one did interpret her hot dog reference as something edible, one might assume she meant a juicy, delicious one, probably with lots of mustard and even some caramelized — er, sorry.
As previously reported, Horyn responded to de la Renta's very public attack on Friday by clarifying the meaning of "hot dog" and calling his a "a bit over-the-top." Over the weekend, she clarified her remarks further to the Times's public editor, Margaret Sullivan:
 "Oscar clearly misunderstood," she said. "I meant to say he's a cool guy who's showing off his tricks."
Horyn's editor, Stuart Emmrich, took her side as well:
Ironically, I know that Cathy feels she actually gave Oscar a pretty good review, and, in fact, felt that the term 'hot dog' was meant to convey showman, and wasn't meant derisively. But sometimes words take on different meanings for those who are being written about than the ones who are doing the writing.
Obviously no one's going to apologize or admit to any wrongdoing, although it seems pretty clear that Horyn's words were not meant (nor were they widely interpreted) as an insult to de la Renta's character or age. Although the designer insisted that he wasn't the only one to see the criticism as personal — he told WWD, "Ninety-nine-point-nine percent of the people who read it read it the way I read it" — it's probably safe to guess that this 99 percent consisted of close friends and colleagues who'd be more than eager to take his side and be overly protective of his feelings. Such is the case in the fashion industry, where egos and emotions sometimes trump better judgment. This is hardly the first time a designer has been angered by a less-than-overwhelmingly positive review, and it won't be the last.
In any case, both parties seem willing to let bygones be bygones; de la Renta assured WWD that Horyn will be invited back to his show next season. "I'm not going to make it that important," he said. Meanwhile, we are always in flavor — er, favor — of beef-related metaphors/puns/expressions, so please carry on, everyone.