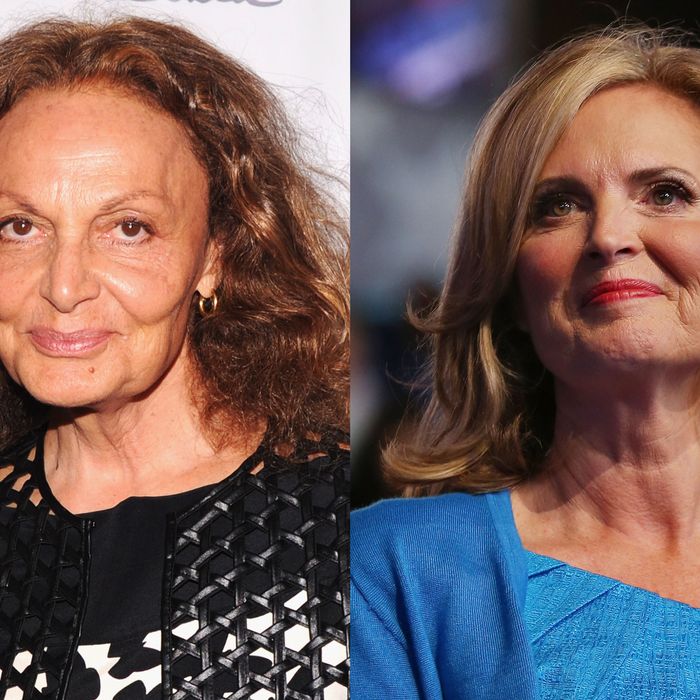 With the Democratic convention coinciding with Fashion Week — and Obama's speech coinciding with Fashion's Night Out — political style is on designers' minds. Diane Von Furstenberg joked that her FNO event would end at ten, so everyone could watch Obama. "It didn't seem like a Republican crowd, did it?" she laughed when we asked how serious she was.
"Michelle was great, Bill was great, I really want to hear the rest of them," she opined. Would a First Lady Ann Romney have the same fashion world appeal as Mobama? "She's a beautiful lady, but it's not about style. Michelle is so strong. She gets in there. But Ann is a very nice person. They're both very nice."
At a Couture Council luncheon on Wednesday, Donna Karan was more direct. After gushing that "I love Michelle as a person, as a soul, and as a spirit," she changed tones when asked whether she'd dress a First Lady Ann Romney. "I can't imagine we wouldn't, but who says she's going to win?" After a long pause Karan added, "I would dress her as a person, absolutely. She's a beautiful woman."
Meanwhile, at the launch party for his new store, Christian Siriano described dressing Michelle Obama as "the goal." Though he said he "couldn't have done a better job" than the pink Tracy Reese dress Mrs. Obama wore for her DNC speech, he envisions dressing the first lady in "a whole outfit, like a top, a skirt, and maybe a jacket. A great blazer in a cool fabric … I love her in color. I think fuchsia is really beautiful, sea foam blue, a range of color." For Ann Romney, he'd make "a power suit" to fit her more "more reserved and classic" style.