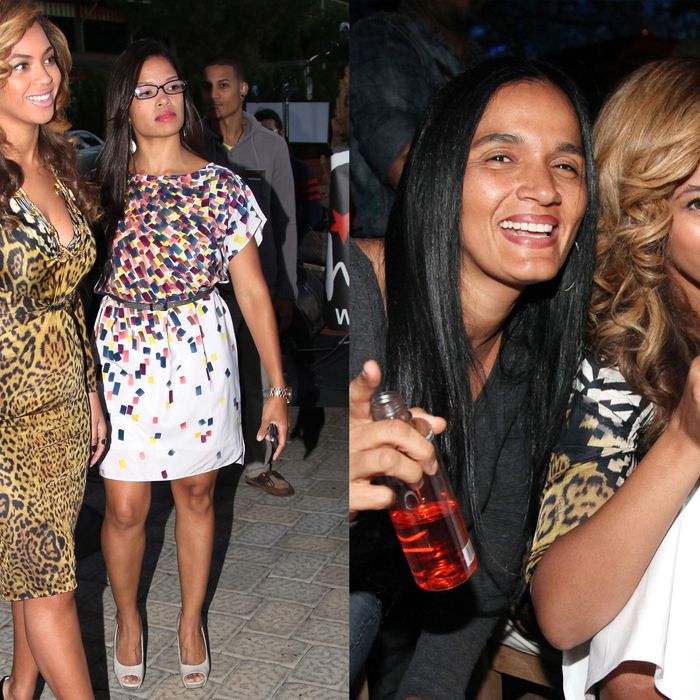 Beyonce in the "telltale" dress.
Photo: Getty Images
On Sunday night, Beyoncé was photographed at La Marina, a riverfront restaurant in northern Manhattan, in a clingy dress that incorporated both leopard and zebra prints. Not only was the dress tight, it was gathered at the waist in such a way that it would make even the most flat-tummied human look, shall we say, protuberant. The Internet hastily concluded she MUST be pregnant, even though her "belly" wasn't even close to what most normal people look like after knocking back some cognac and hitting the calamari plate. (It must be noted that while Bey was photographed holding a glass of said cognac, there's no evidence that she actually consumed it. And we just made up that part about the calamari.) 
Anyway, after yesterday's initial fuss over the alleged "pregnant" photos, later bolstered by "unnamed sources" claiming that Bey was indeed a few months along, the PR company who e-mailed out the pictures clarified that her so-called "tummy" was just because of "the way her dress looked." But the moral of the story is this: It turns out that eight months after Blue Ivy's birth is soon enough to start examining Bey's midsection for evidence of baby No. 2. Kate Middleton, take solace — your eight months of peace will happen, too, someday.