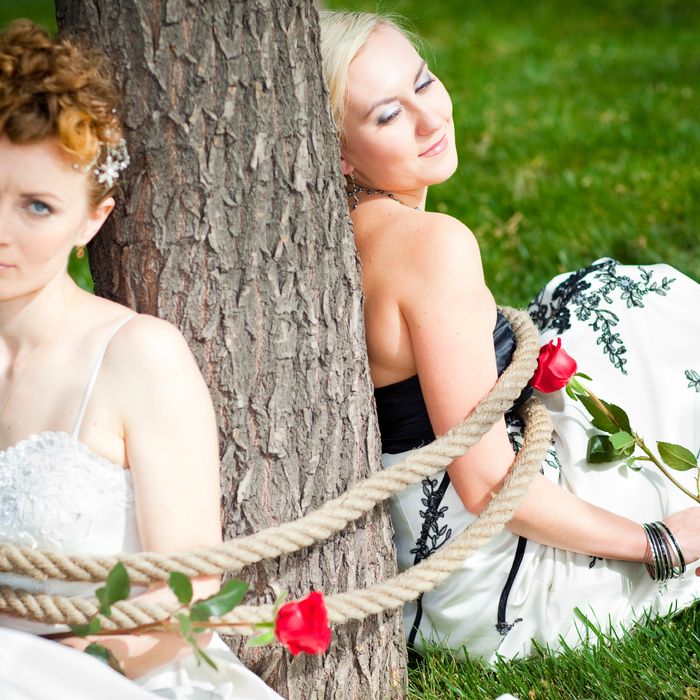 Two crazy nuptial news stories made the rounds yesterday, occasioning the revival of our unexpectedly recurring bridal-trend smackdown feature. Last time, we looked at trends in erotic wedding photography. Today, marital rituals for those who live dangerously.
Kidnapping the bride has become a trendy wedding tradition in Romania, the AP reports.
Every Saturday night, brides from Bucharest and beyond are dragged away in a mock abduction by friends and driven to a top tourist spot where they are "held hostage" — all the while pouting, dancing and striking provocative poses for the cameras.
As Jezebel pointed out, the 1999 film Jawbreaker taught us that sometimes fake kidnappings become real manslaughter. But what's really gross about this trend is that the groom has to a) "save" the bride and b) put a price on her head. Worse, the AP reports that price might just be a few bottles of whiskey. Besides, weddings are logistical nightmares without a fake kidnapping thrown into the mix.
Fake-your-own-death wedding proposals aren't a trend yet, but thanks to this semi-viral news story yesterday (h/t Gawker), they might be soon.
Alexey Bykov, 30, of Russia, hired a movie director, stunt men, makeup artists, and, evidently, photographers, to stage a fatal car accident feet from where he'd arranged to meet his girlfriend, Irena Kolokov. When a paramedic told Kolokov her boyfriend had died, she broke down in tears. He "then jumped to his feet and proposed to Irena still covered in fake blood."
As the 1997 film The Game taught us, faking your death is a surefire, if high-cost, way of teaching your loved ones what's important in life. But is it appropriate for a wedding proposal?
As has already been established elsewhere on this site, public-performance proposals are the worst, and the fake-your-own-death varietal epitomizes the three reasons why: 1) It's an expression of the groom's resources (as opposed to the bride's virtues), 2) it makes a fool out of the bride, and 3) it makes it very, very hard for her to say no.
But is it worse than posing for a sexy hostage photo shoot in a very public location while your future husband negotiates your boozy release from his male friends?
Thanks to this bit of emotional extortion, yes:
"I wanted her to realise how empty her life would be without me and how life would have no meaning without me."
Talk about a keeper.