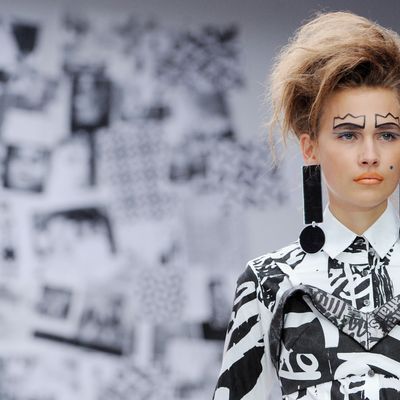 Photo: Stuart Wilson/Getty Images
Saying Louise Gray reined herself in for her newest collection is like saying the sea got a little bit less wet. There's still a hell of a lot of water there in the latter case, and there's still a hell of a lot of unabashed fashion fun in the former. Gray's designs continue to illustrate that just because a collection appears unfiltered doesn't mean it's unrefined; there's a clear method to the successful madness on display. Think party poppers exploding: A quick and noisy burst of colorful whimsy, sure, but it takes a lot of work to roll the streamers up beforehand.
Like Michael van der Ham earlier in the day — granted, to different effect — Gray's line saw the daring juxtaposition of geometric and text-based prints that should have clashed horribly, but didn't. (The same can be said about the collection's spectrum of tart colors.) Certainly eye-catching, the looks retained qualities of optical art bordering on optical illusions, furthered by the appliqué of crystals and oversize paillettes. Jaunty accessories added to the trompe l'oeil festivities — hats and other headgear cut into negative space, along with exclamatory jewelry (literally so, in that earrings resembled exclamation marks) covered in doodles and entertaining nonsense. The makeup artists had clearly been infected with the same doodlebug — models emerged with comically large beauty marks, blue eyeliner, and eyebrows drawn on in the shape of crowns.
Also, in a stroke of musical genius, the runway's soundtrack included Chelley's Jersey club classic "Took the Night." With regards to the collection, the lyrics — and the chorus in particular — speak for themselves.