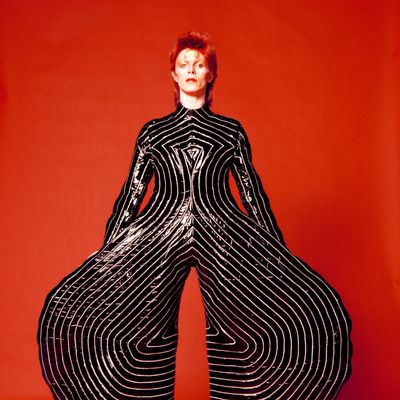 Photo: Masayoshi Sukita/The David Bowie Archive
Next spring, London's V&A museum will mount David Bowie Is, a major retrospective that will explore his creative processes "as a musical innovator and cultural icon" over the past five decades. More than 300 objects will be on show, including handwritten lyrics, original costumes, musical instruments and album artwork.
The show runs from March 23 to July 28, and will include Ziggy Stardust costumes designed by Freddie Burretti in 1972; costumes from the 1973 Aladdin Sane tour, designed by Kansai Yamamoto; and Bowie and Alexander McQueen's collaborative Union Jack coat, as worn on the 1997 Earthling cover. There's also fashion photography from the likes of Herb Ritts, Helmut Newton and John Rowlands. Check out the slideshow for a preview of some of the show's most noteworthy exhibits.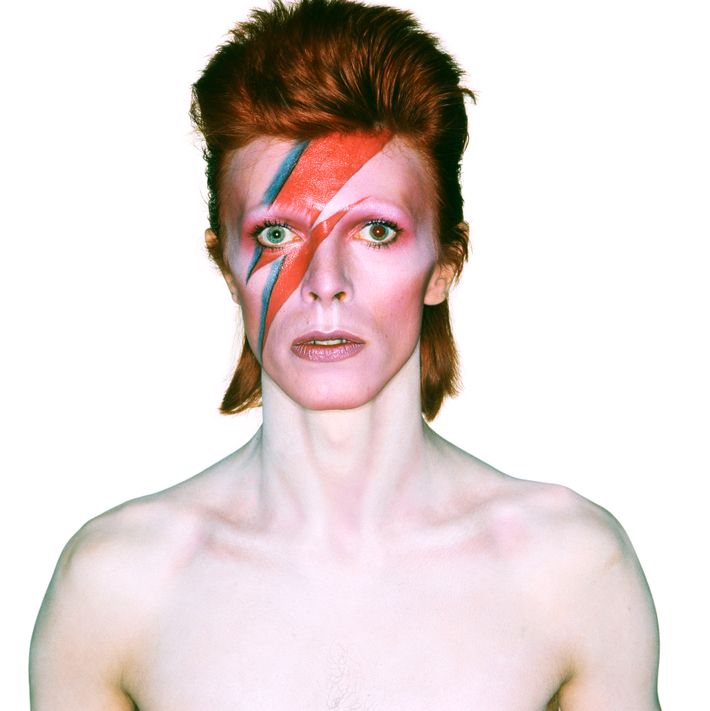 Fpr the cover of Bowie's sixth studio album, he collaborated with photographer Brian Duffy and make-up artist Pierre Laroche on this iconic lightning flash look. The forthcoming show includes the contact sheet from the shoot. Album cover shoot for Aladdin Sane, 1973. Photograph by Brian Duffy. Duffy Archive.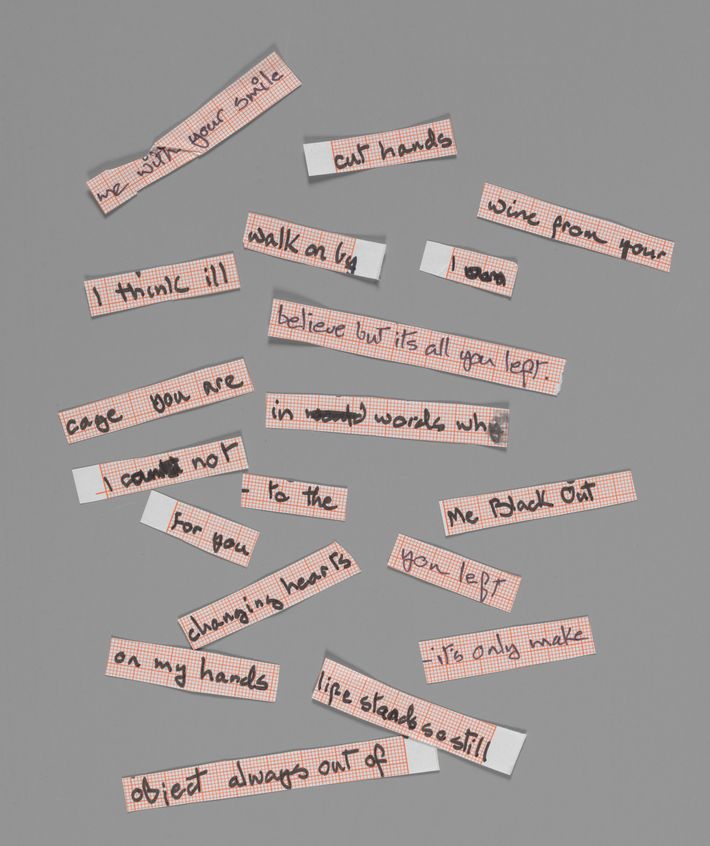 As part of Bowie's creative process, he often adapts techniques from other artists – for example, the "cut up" method introduced to him by William Burroughs. Alongside this example, the exhibition will include handwritten lyrics for Fame (1975), Heroes (1977) and Ashes to Ashes (1980). Cut up lyrics for Blackout from Heroes, 1977. The David Bowie Archive 2012. V&A Images.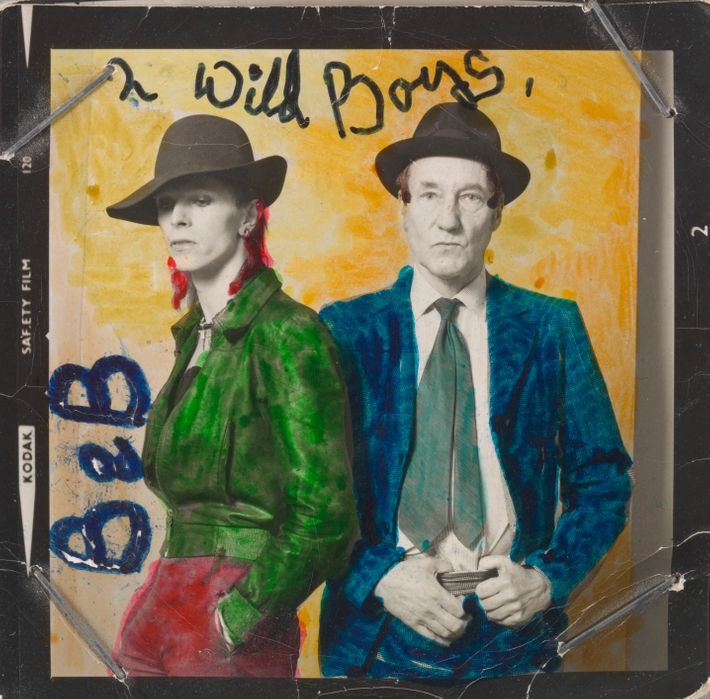 This snap by Terry O'Neill shows Bowie with writer William Burroughs. It was hand-painted by Bowie himself. David Bowie and William Burroughs, 1974 Photograph by Terry ONeill. Courtesy of the David Bowie Archive 2012.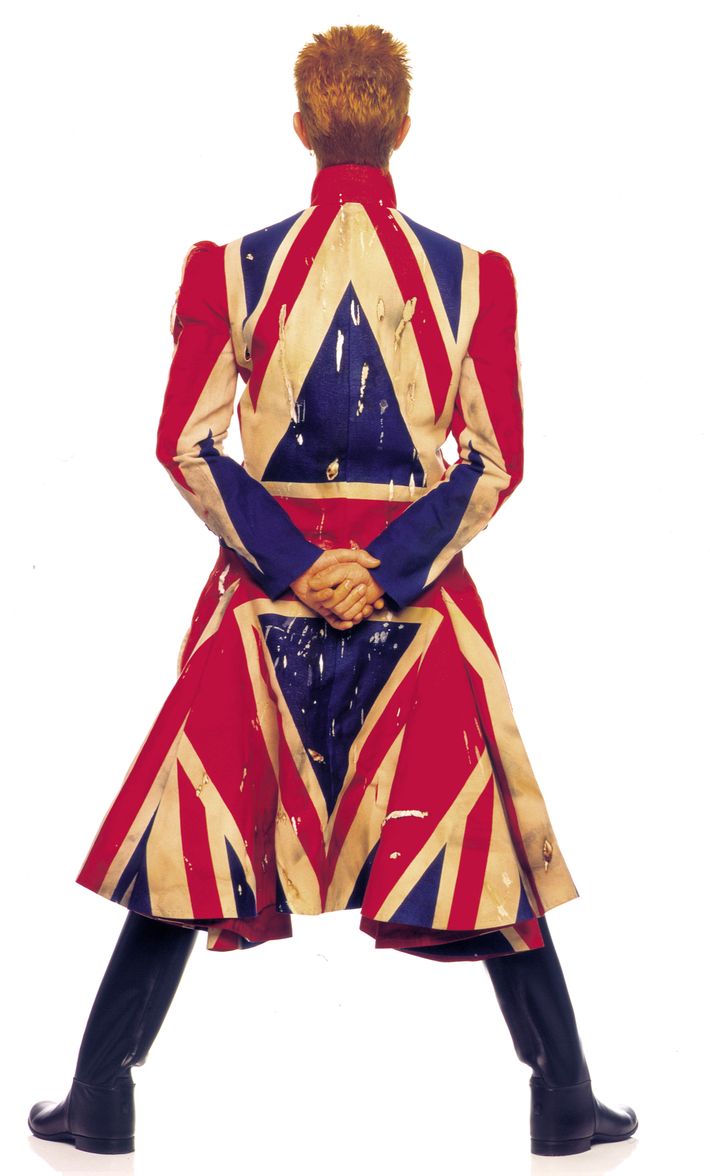 In the fashion world, Bowie has worked with Hedi Slimane, Giorgio Armani, Thierry Mugler and Issey Miyake, among others. This coat, designed in collaboration with Alexander McQueen, was worn on the Earthling album cover in 1997. Original photography for the Earthling album cover, 1997. Frank W. Ockenfels.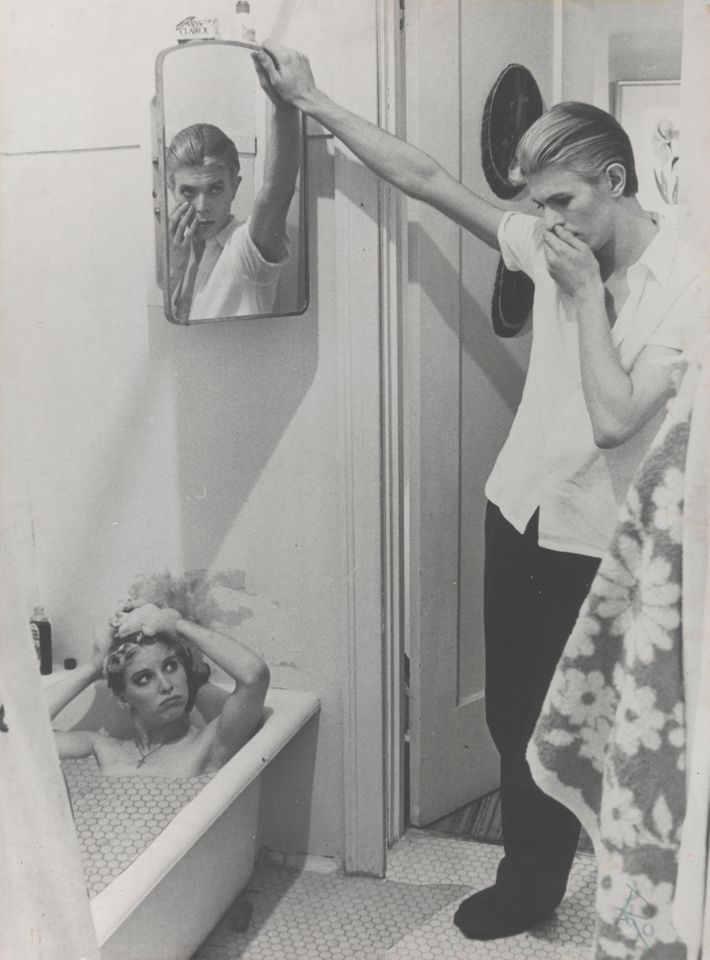 In 1976, Bowie starred in The Man Who Fell to Earth as an extraterrestrial stranded on earth. Director Nicolas Roeg reputedly waited eight hours to meet Bowie, who had forgotten about the appointment. Photo collage of manipulated film stills from The Man Who Fell to Earth Film stills. STUDIOCANAL Films Ltd. V&A Images.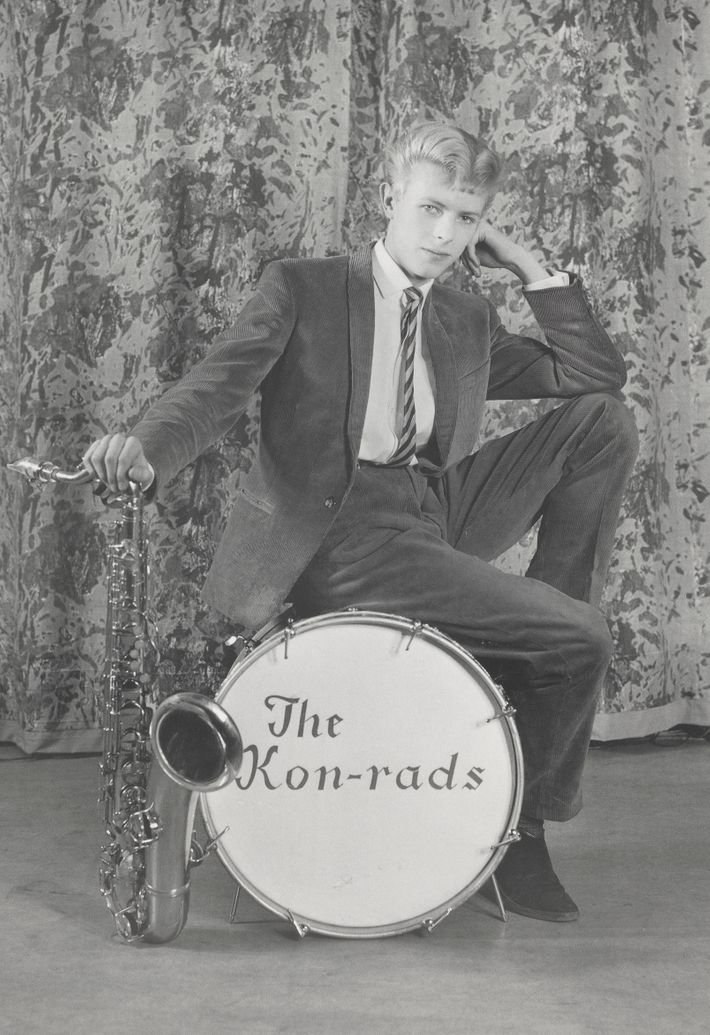 This picture of the teen then known as Davie Jones shows him in a band called The Kon-rads – it was two years later that Jones became Bowie. Promotional shoot for The Kon-rads, 1963. Photograph by Roy Ainsworth. Courtesy of The David Bowie Archive 2012. V&A Images.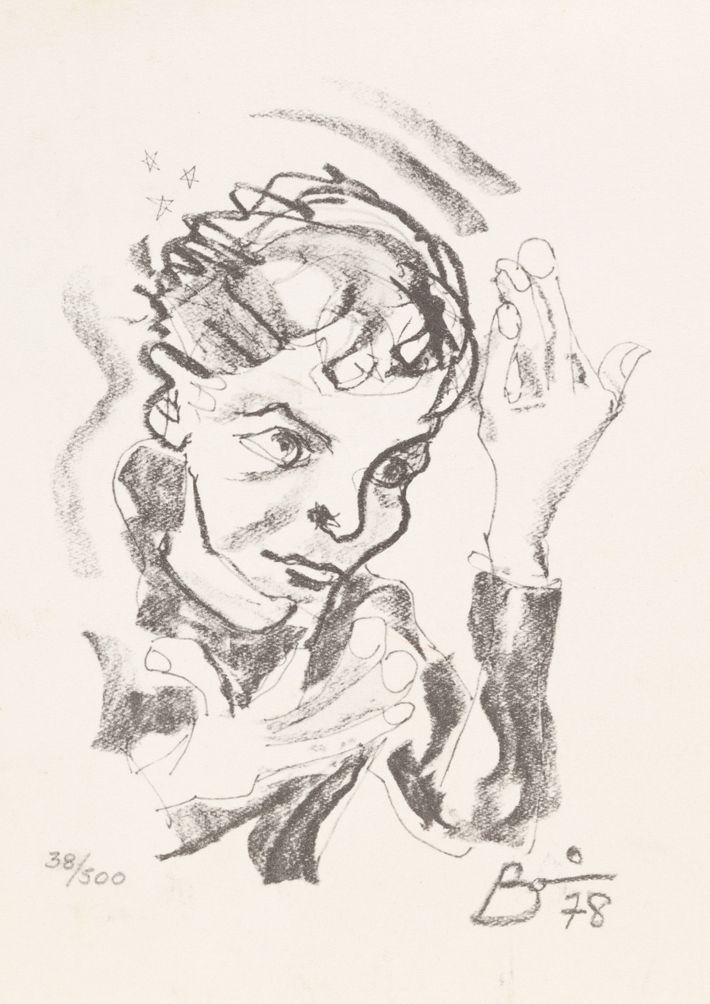 This self-portrait shows Bowie in the same pose he struck for the cover of 1978's Heroes. The work was produced during his Berlin years, when he moved to Germany with Iggy Pop to seek anonymity and fresh inspiration. The exhibition will look at how he was influenced by Dadaism, German Expressionism and cabaret. Self portrait in pose also adopted for the album cover of Heroes,  1978. The David Bowie Archive 2012. V&A Images.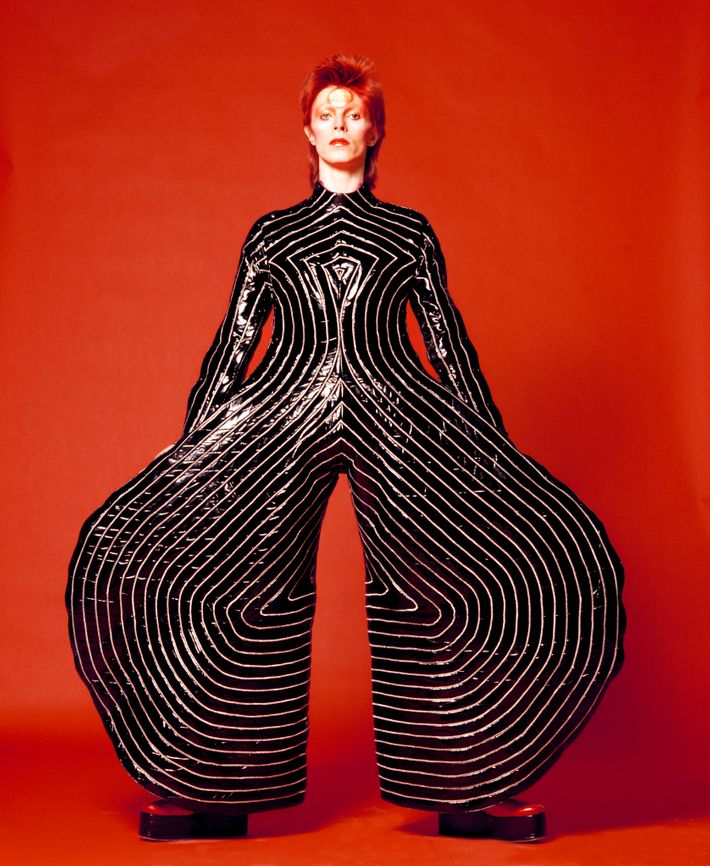 This piece is part of a set of flamboyant stage costumes designed by Yamamoto for 1973's Aladdin Sane. The sculptural designs were inspired by samurai and kabuki actors. Striped bodysuit for Aladdin Sane tour, 1973 Design by Kansai Yamamoto Photograph by Masayoshi Sukita. The David Bowie Archive 2012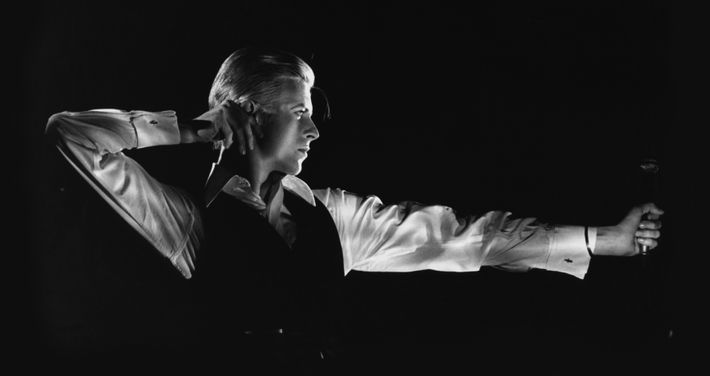 On the Station to Station (1976) tour, Bowie performed as The Thin White Duke, dressed in a chic shirt, waistcoat and trousers, and accessorizing with slicked-back hair and a packet of Gitanes cigarettes. The exhibition will feature some of the tour costumes, which were designed by Ola Hudson. The Archer Station to Station tour, 1976. John Robert Rowlands.