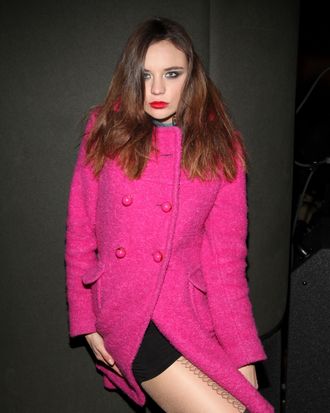 The network's Pop Tarts blog is hot on the heels of a huge Fashion Week story: Models are taking "extreme, and often dangerous, measures" to whittle their five-foot-eight bodies "down to a hundred or so pounds" (ha! Who is five-foot-eight?). Muse NYC's Kira Dikhtyar rattled off the following list of fun times:
Packs of cigarettes, daily colonics, laxatives, Phentermine diet pills, Adderal, prescription drugs that suppress the appetite … I've heard stories that some modeling agents encourage girls to do speed and cocaine in order to speed up metabolism and eat less. And all kinds of injections are becoming more and more popular, from HCG injections that go with a 500-calorie diet plan to T3 thyroid injections that healthy models inject in an attempt to speed up their thyroid function, which results in a faster metabolism.
She said other girls eat cotton balls to feel full — a sad and terrifying weight-loss technique we've heard about. But apparently some designers are only casting healthy-looking models at their shows. Dikhtyar explained, "This fashion week, only Elie Tahari sent me back because I was too skinny … So I guess I should applaud him." And a round of applause, folks, for Fox News for picking up this nonpartisan topic, but the religious right has probably been praying for the models anyway.