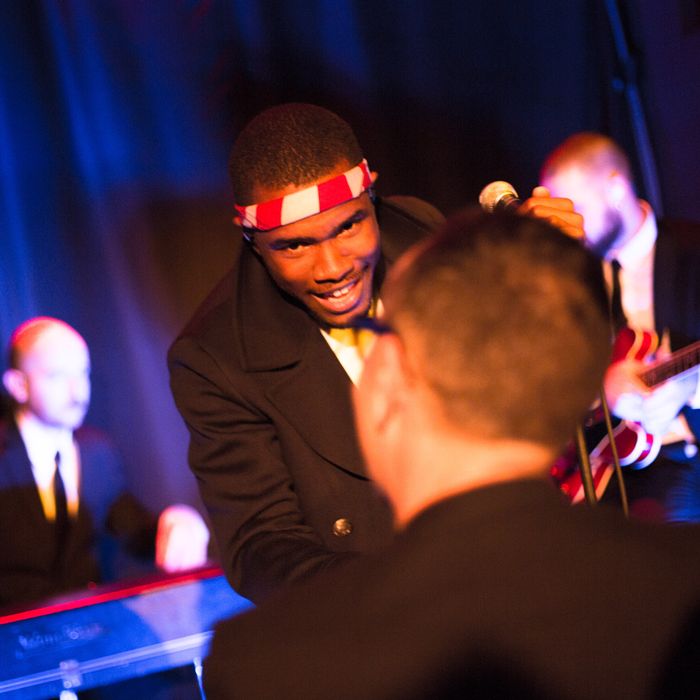 Photo: Benjamin Lozovskynyc.com/BFA
By the time Frank Ocean took the stage last night at J. Mendel's after-party at No. 8, the squirming crowd was beyond amped to hear the singer's soulful "Forrest Gump."
"I love the guy," said Gilles Mendel, the line's head designer and fifth-generation heir. "I think today there is such a different mix of different ideas that really makes you feel we are all connected in some way, and he is right there for us."
The downstairs bar at Amy Sacco's cozy, flora-filled club was packed to the brim with Channel Orange enthusiasts, like Jessica Seinfeld, a fan since the mixtape. Seinfeld was celebrating her 41st birthday with Jerry and friends in the front banquette.
Meanwhile, first-row fixture Joan Smalls was vying for a spot before the artist's intimate mini-platform. "He is very raw and I think that's what people are interested in," the top-model said. "There is a mystique."
After closing out a second song, an emotional "Thinkin' of You," Ocean left the stage abruptly enough it would seem he was offended by the errant flash photography. The confused crowd looked around briefly, before realizing he's just that cool. Sia quickly cued the tables and played Carly Rae Jepsen. Mendel, celebrating, continued to dance.