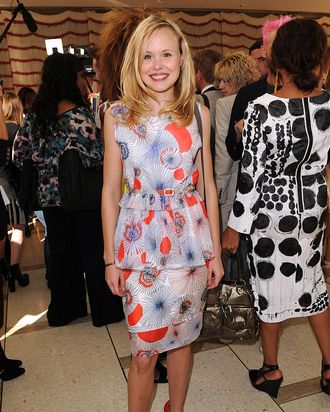 When we started scouring the Chris Benz presentation for A-list faces, we noticed a little girl in a sparkly headband making a beeline for a crowd of people, glowing and trembling with excitement. Generally, or at least at these things, glowing and trembling moppets walking with purpose ends in a photo of said moppet with their favorite celeb, so we tracked the girl through the crowd, through a halo of two burly bodyguards, one male companion, and one PR handler, and right to the side of Paula Abdul. She may be gone from televised talent competitions, but clearly is not forgotten. Paula, who – in rhinestone-bedecked peep-toe heels — wasn't really that much taller than the tot and about as wide, wore a hot pink satin-y skirt and black top in the same fabric. We were surprised that she needed such a tight, protective posse, but then again she is wee and could be trampled; plus maybe they just wanted to spare her any awkward interactions with dorks who might ask her to straight up now tell them if she ever wanted to dance with a cartoon cat again. Not that we know any people who fit that description.
Benz also drew the equally petite Joan and Melissa Rivers, who looked to have a camera crew in tow, and had half an hour before been spied inside the tents shooting Fashion Police at a makeshift second-level studio. Actress Natasha Lyonne made her way through looking somewhat bemused, and posed for pictures with the pink-haired Benz alongside singer Sia. Twilight's Julia Jones won the day with a fabulous lime green and orange dress paired with a skinny yellow belt – like a sorbet sampler, in the best way – and Vanessa L. Williams popped by on a break from 666 Park Avenue, just long enough for us to have a whispered conversation about how much we resent her having to insert the L despite being the original and still the best Vanessa Williams. Benz also had a couple regulars in the house: Susan Sarandon wore Tory Burch wedges, and spent the entire show cradling a fluffy white dog under each arm (they are Fashion Week first-timers, we suspect), and Kelly Osbourne eventually showed up with a candlestick-like configuration of hair atop her head. If Colonel Mustard shows up bludgeoned in the conservatory tomorrow, somebody might want to question her.
Oscar-nominated actress Hailee Steinfeld added this stop to her packed Fashion Week itinerary, and didn't appear to be worn down in the slightest by her busy schedule. We're happy to see her making the rounds; for someone whose first real experience with the spotlight coincided with her working the high-pressure awards-season red carpets, she's made some pretty gutsy and intelligent fashion decisions. "I really found the playtime in it," Steinfeld told us. "True Grit was a lot of hard work, and then after that I went on the press tour and started working with a stylist and it was so much fun that I just fell in love with fashion." Hailee also said she's growing into her personal style as a process of elimination – "So far, I'm learning more about what I don't like than what I do" – and joked about her lack of Fashion Week poker face. "I'm looking at everyone and they're like, 'Mmm,' all serious, and then I'm in the front row being such a dork with the biggest smile on my face the whole show," she said. For our money, a little open enthusiasm is great – we often say that if we ever get so jaded that we forget how fun it is to see a fashion show in the flesh, we hope someone will kick us in the shins.
Alison Pill of The Newsroom also appeared to be having a blast, spending most of her time sipping cocktails with Anna Chlumsky and having very animated, gossipy conversations. Pill was fretting about feeling out of touch with New York — "Daphne's is closing, and I don't know what's going on in the theater" – and then they quickly moved on to the migratory effect that shooting projects in other cities can have on their sports allegiances. This then led to a lengthy discussion about whether Los Angeles has sufficiently rootable sports teams – can we get a "Go Dodgers"? —  and by the time they were done debating, we had decided they are our Fashion Week soulmates, because we too often find ourselves standing in the corner holding a cocktail and talking about football. Maybe Benz should have held this whole thing in a sports bar. Make a note for next time, Chris. After all, cheerleader outfits can be quite sartorially inspirational – just ask your friend Paula Abdul.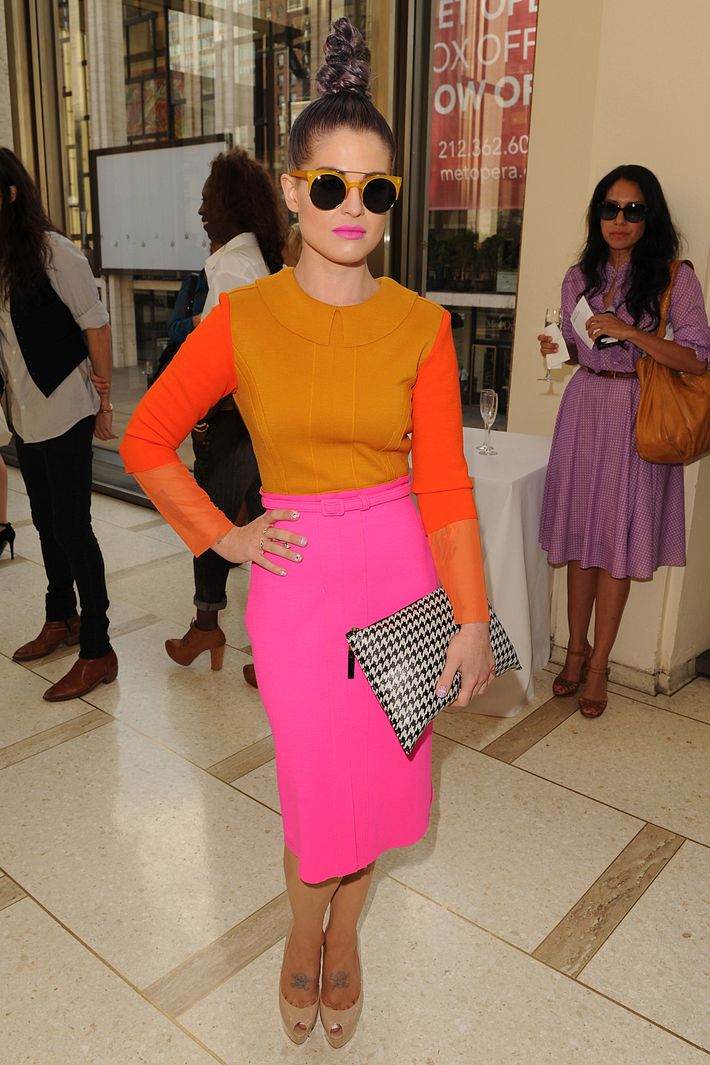 Kelly Osbourne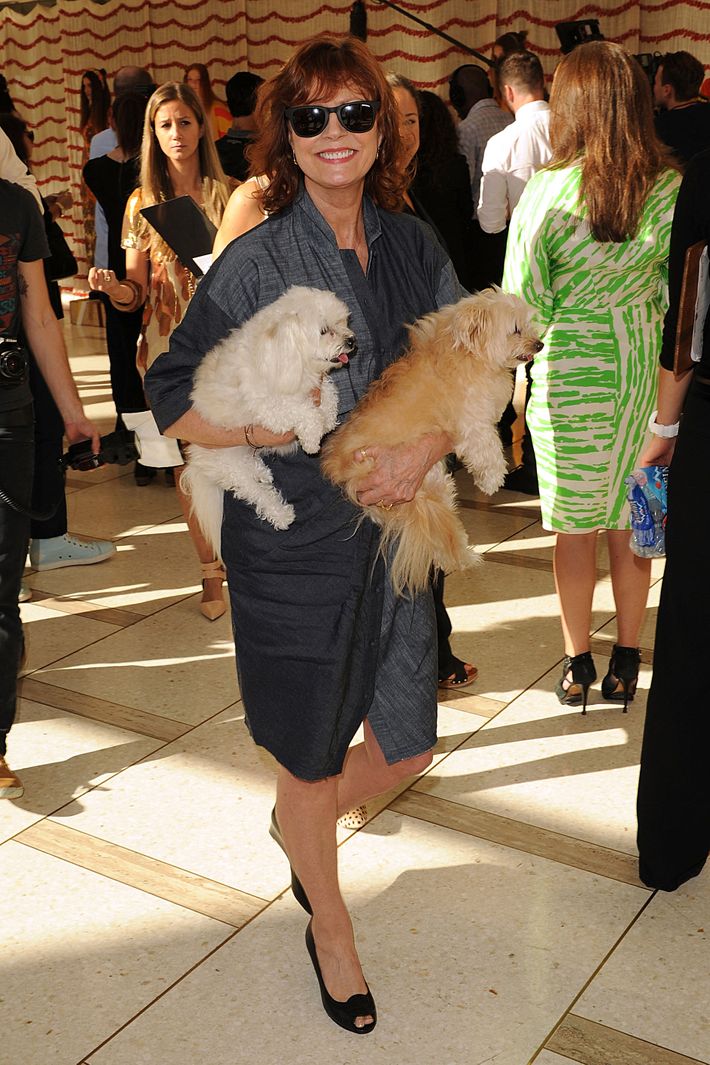 Susan Sarandon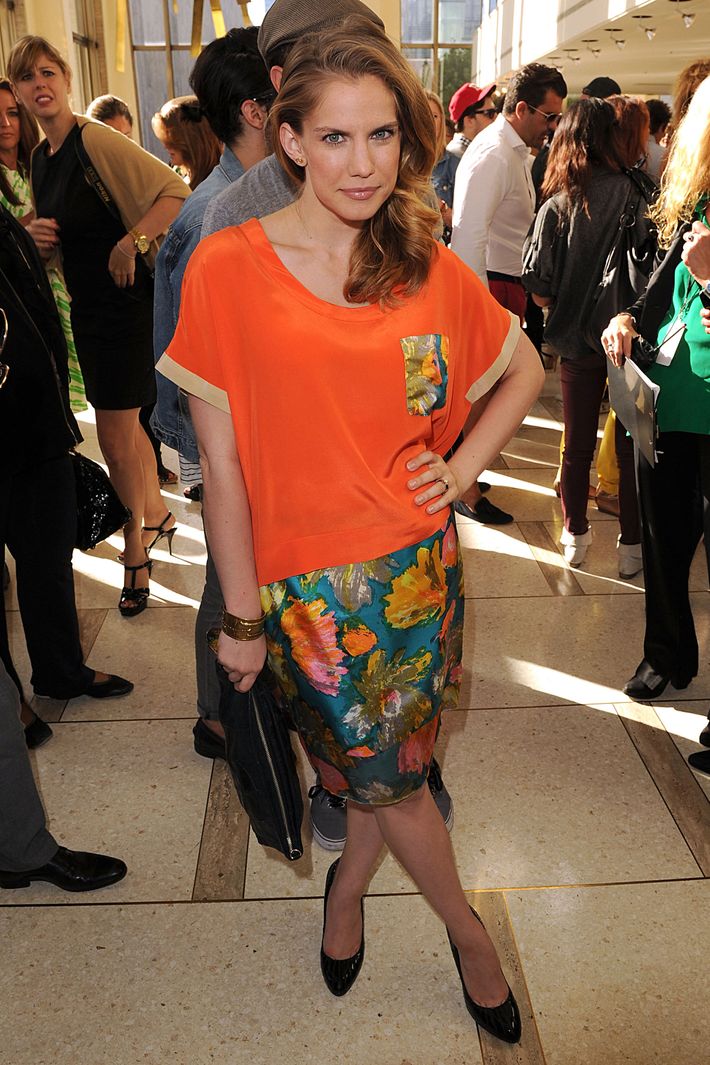 Anna Chlumsky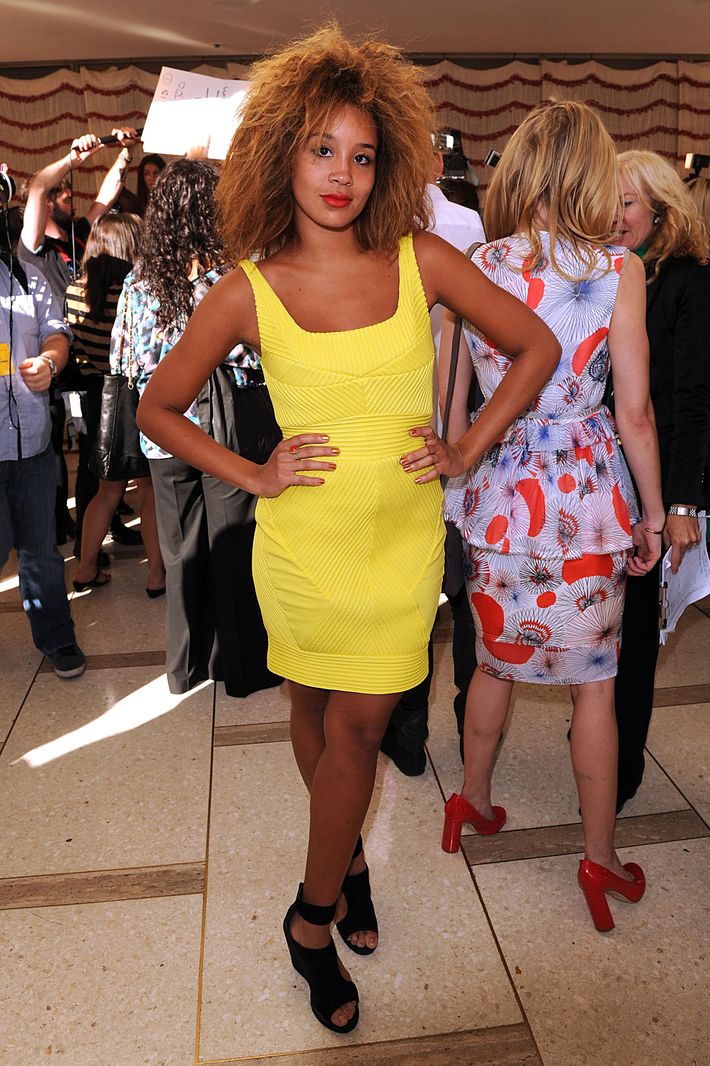 Jillian Hervey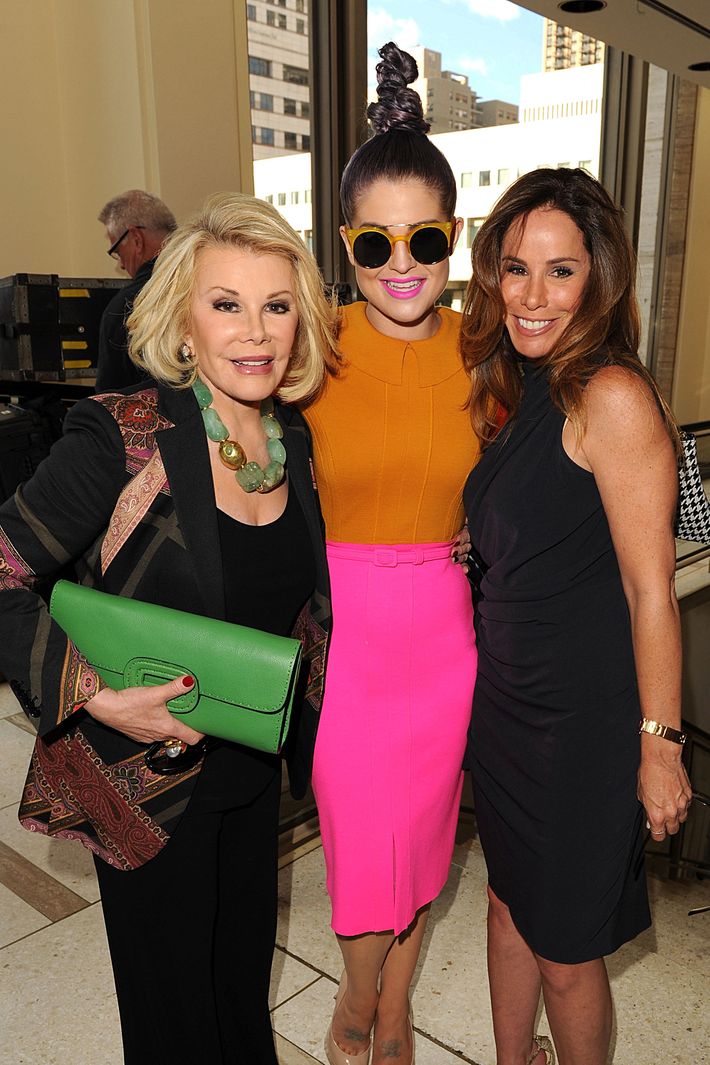 Joan Rivers, Kelly Osbourne and Melissa Rivers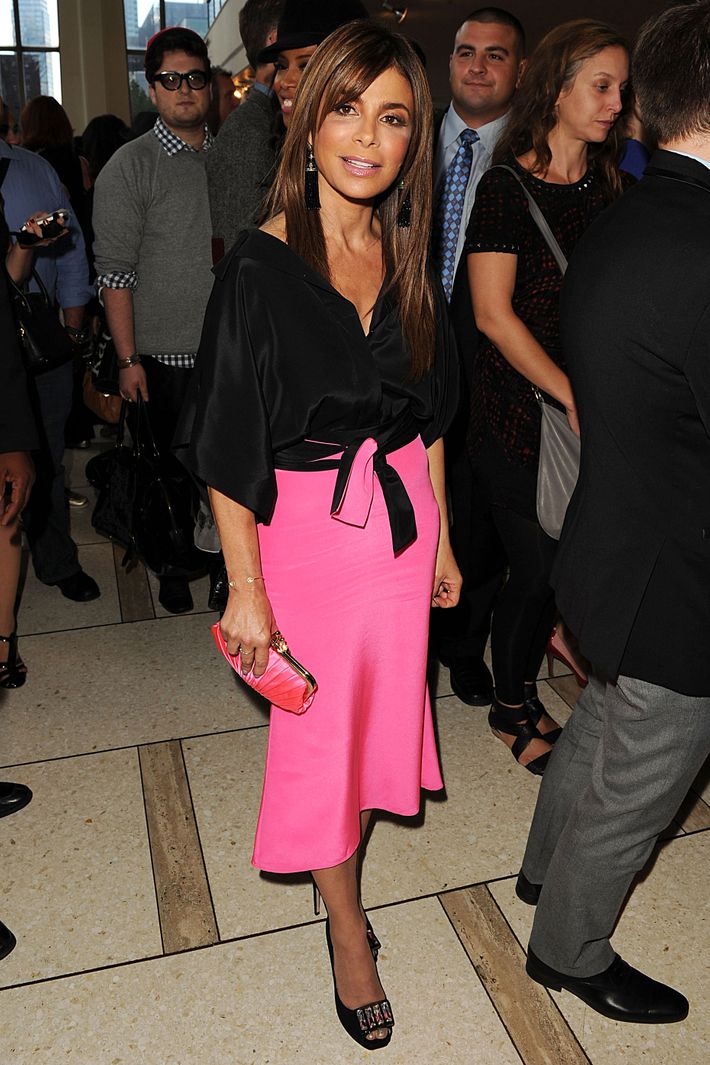 Paula Abdul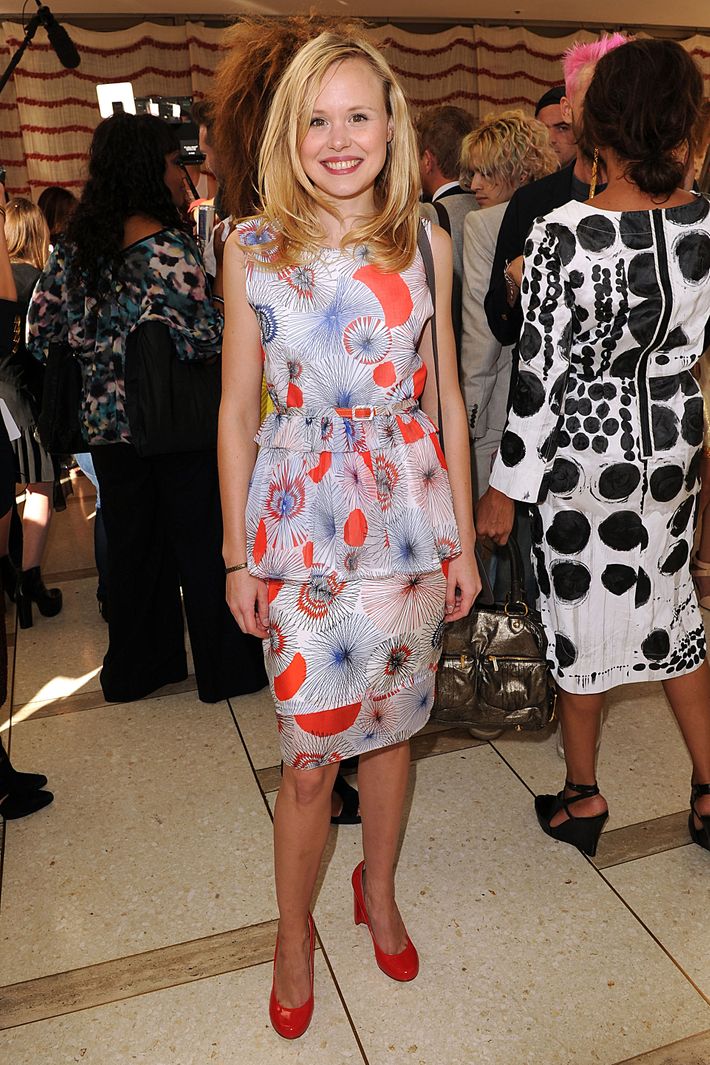 Alison Pill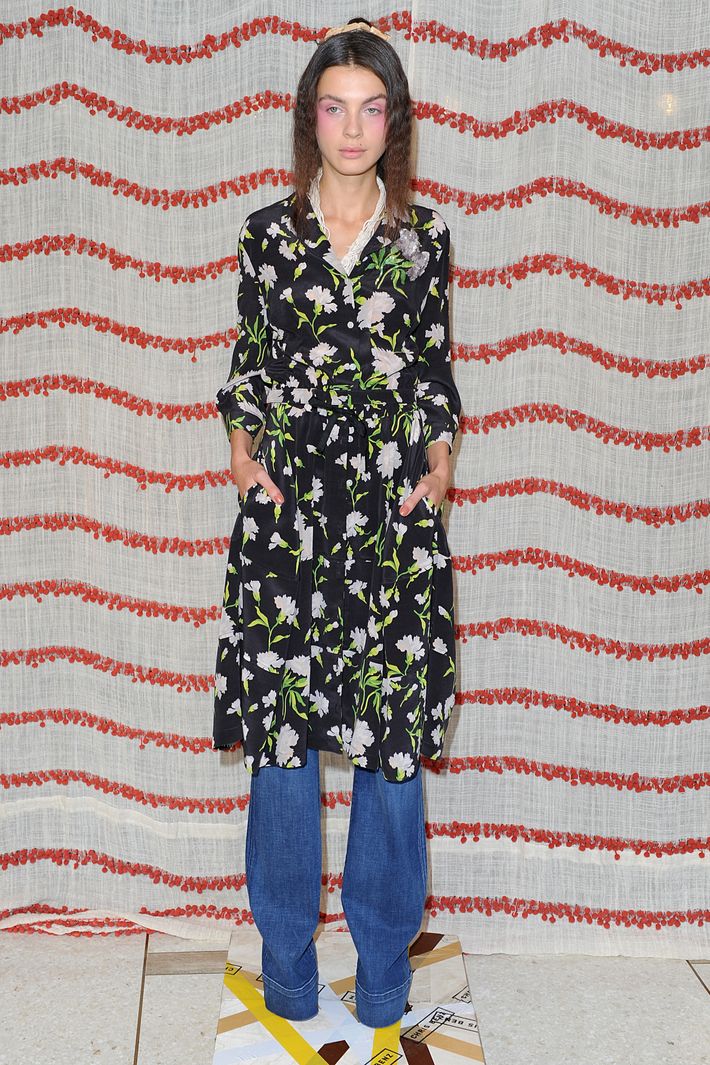 Backstage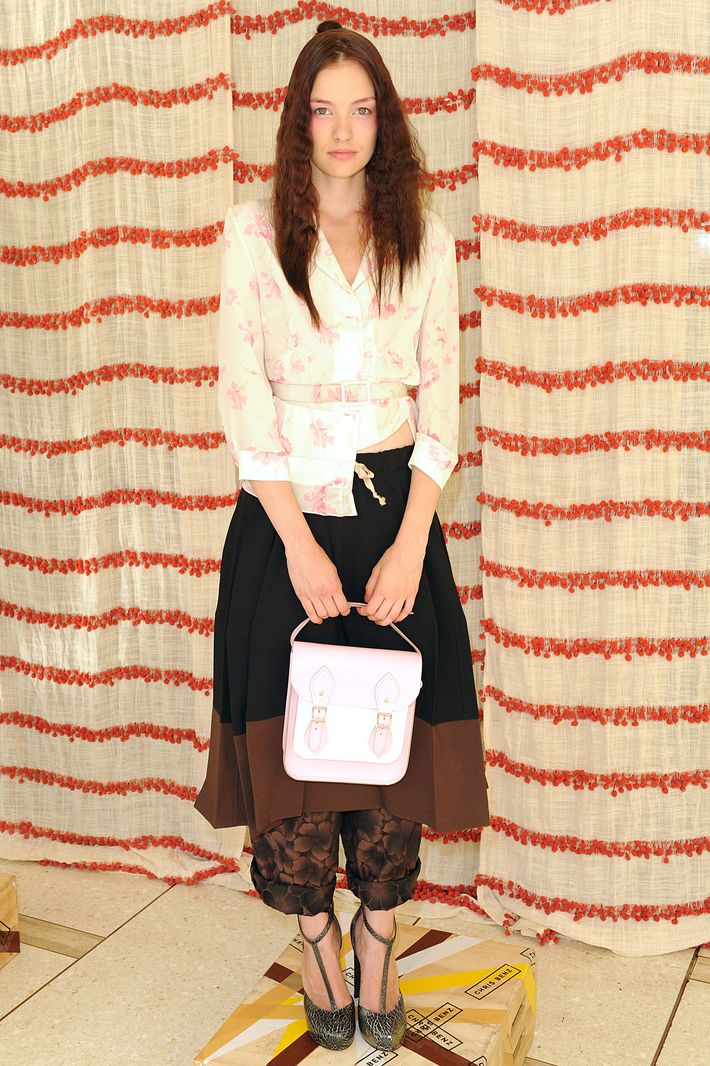 Backstage