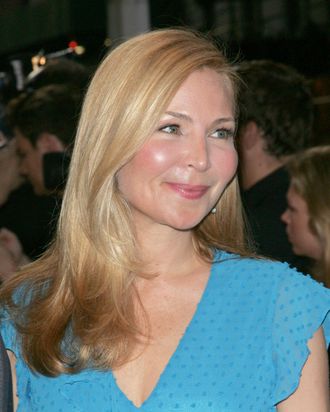 Photo: Jim Spellman/WireImage
In our six years of taking in the front-row shenanigans at Fashion Week, we've never gotten to see what goes on backstage, but thanks to our wild imagination, it was always one of two scenarios: trembling models fully dressed while celeb guests and editors stone-facedly previewed the clothes; or complete shoe-flinging, stain-fighting, boob-taping, hem-busting mayhem with a few buckets of tears and maybe someone in a corner swilling gin and rocking back and forth while muttering "peplum."
At Nanette Lepore on Wednesday, the truth — unsurprisingly, really — turned out to be neither. Everybody was working very hard, but nobody was murderous, weeping, nor fully dressed enough in advance to risk getting muffin crumbs on the clothes. One model, all set save for the outfit, sat on the floor in her boyfriend's lap, canoodling and getting a shoulder massage. Another was hiding under a clothing rack with earbuds jammed in; a third was getting concealer applied to her back. Please tell us that is not hot for fall, because we are not quadruple-jointed enough to make it happen. 
As models were touched up and finished, handlers plucked little black "Almost Ready" tags out of their hair, and they slowly arranged themselves near the giant masking-tape line on the floor, marked with the names of the models in the order that they would walk — kind of a very organized cross between a theater mark, a family tree, and a corpse outline. Amid all this, both Lepore herself and actress India de Beaufort posed for pictures and did some interviews on-camera. "We're the moms!" a cluster of proud older ladies told one of the PR girls, as they watched India talk. "My mom is here, too!" the girl exclaimed. Hooray for moms. We hope they all hit it off and then went for mimosas.
De Beaufort joined a front row that was so full, singer Carol Kane was relegated to sitting behind them. Soledad O'Brien and Natalie Morales sat near one end, and the ever-groovy chair-dancing Aida Turturro — never has there been a cheerier presence in the tents; she should put herself in pill form and make millions — had a mini-Sopranos reunion down the other side with Edie Falco. Abigail Breslin was in screaming hot pink, next to de Beaufort and Blue Bloods' Sami Gayle, who has put in a ton of face time this season. We also saw Stanley Tucci, handsome in a blue suit, presumably enjoying being the man-meat in a Jennifer Westfeldt–Felicity Blunt sandwich. He sometimes would come out a little crabby at these things, but since he paired off with his new bride Felicity, he has been downright lovely. Guess it makes sense; it's right there in her name, after all.
Westfeldt came backstage, weaving through the makeup area with wide eyes and then turning and giving an excited shoulder-wiggle at her friend. It was her first fashion show ever, she said. We hoped she had been practicing her poker face in the mirror. "No!" she laughed. "I just want to have fun." Westfeldt looks a lot more like Lisa Kudrow in person than we expected, which we suppose is neither here nor there, unless somebody wants to make a Friends reunion in which they find Phoebe and Ursula's surprise triplet sister. 
With the Emmys coming up in a little more than a week, Westfeldt also seemed to be enjoying the relaxed Lepore atmosphere before having to fancy up for the big red carpet. "I'm terrible at it. It really, really stresses me out," she said. "There are many beautiful dresses, but people don't realize it's like a twelve-hour day, so anything heavy or uncomfortable is a no-no. So you have to find that balance between being comfortable and being lovely. It's intimidating." And then there is the weather factor. "Sometimes in L.A. it will be just scorching, and you get so hot and then you have to worry about your face turning bright red … " She shook her head. "I don't know what you do about that." Neither do we, but we would be more than happy to blow off the rest of today to grab cocktails with her and her boyfriend Jon Hamm while we all strategize it. For purely altruistic reasons. Obviously.