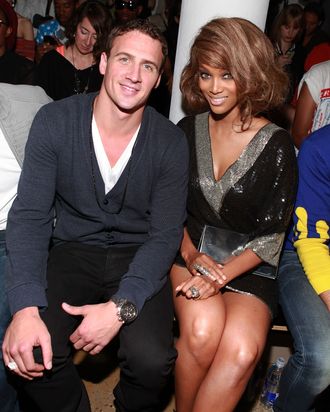 Photo: Robin Marchant/WireImage
Waiting in line at Milk to get into the Jeremy Scott show on Wednesday afternoon, we heard a rumor that (a) Tyra Banks was in the house, and (b) people were going crazy for her. No offense to Miss Banks — we have, after all, watched every season of Top Model — but this was a little surprising. TyTy is hardly a reclusive figure. Perhaps she was really bringing extra smize this afternoon? we theorized.
We learned the truth once we got upstairs. Tyra was at standard levels of smize, and she was wearing a kicky new short bob to visit with her ANTM panel-mate Kelly Cutrone. She looked, as Tyra basically always looks: good. But we suspect the media frenzy really kicked off thanks to her seatmate, one Mr. Ryan Lochte. Maybe you've heard of him? Just looking at them sitting next to each other, it occurred to us that the next step in Tyra's takeover of the media landscape should perhaps involve a high-profile wedding to America's current swimming superstar. Imagine the People magazine cover! Imagine the made-up words! Imagine the matching grills!
Ryan had a date, though — at least of the bromantical variety. On his other side sat Conor Dwyer — giving us two of Nathan Adrian's Three Best-Dressed Men on the U.S. Swim Team — looking as sharp as promised but also mildly perplexed. We can't entirely blame him, given that Scott's shows are always on the kooky side, and this one in particular involved a woman wearing something that seemed related to a burqa.
On the whole, though, we have to high-five the boys — both for holding remarkably solemn poker faces when a bare-breasted model sauntered by and for seemingly not acknowledging Paris Hilton, down at the end of the row, at all. Because, if the idea of a Lochte/Banks union fills us with gossipy glee, the concept of a Lochte/Hilton one terrifies us to the very marrow of our ancient bones. Stay strong, Ryan. America's really counting on you this time.