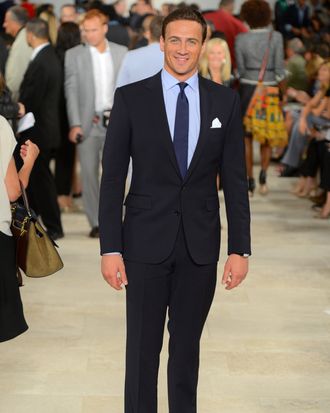 Photo: Frazer Harrison/Getty Images
We thought we were suffering from Acute Lochte Fatigue (symptoms include eye-rolling in the place of swooning, followed by involuntary, uncontrollable utterances of "Jeah!") brought on by Fashion Week Ryan Lochte Overexposure. But that was before he showed up at Ralph Lauren on Thursday morning wearing a Ralph Lauren suit, and by "wearing," we mean "working." The man behind us grunted when his seatmate leaned over and pointed out the Olympic swimmer. "At least he's dressed properly," he groused. It seems not all of us have managed to make a full recovery.
Frankly, we're not sure why Ryan was at a womenswear show, unless it was to ogle the models — or because he wants to support designers who share his initials — but we were pleased to see that yesterday's Paris Hilton–adjacent outing to Jeremy Scott didn't kill the buzz of his bromantical week with teammate Conor Dwyer, who tagged along again. And it is a shame that after Ryan posed for the photographers down in the photo pit, someone turned out the overhead light they were using to illuminate the celebs and no one got a shot of Conor. You will just have to trust us when we tell you that he also looked very handsome in his suit.
You will also just have to trust us when we tell you that Ryan Lochte is a man who will Front-Row Seat-Dance to the classic Spanish guitar music at Ralph Lauren with the same chill enthusiasm he displayed when Front-Row Seat-Dancing to Missy Elliott's "Get Ur Freak On" yesterday. This time, he was head-bobbing next to Olivia Wilde, who looked flat-out fantastic in a tangerine-colored dress, with her hair in a bun. Next to Olivia sat a plaid-skirt-wearing Jessica Alba, who arrived with her stylist Brad Goreski (who sat in the second row behind her, like a stylist-stylist rather than a celebrity-stylist), and who spent the entire show taking pictures. The rest of the celeb front row was filled by various Laurens: David Lauren, Lauren Bush Lauren, Dylan Lauren, and other well-coiffed Laurens we don't know. We are pleased to report that, like Ryan Locthe, all of them were dressed properly. We would expect nothing less.