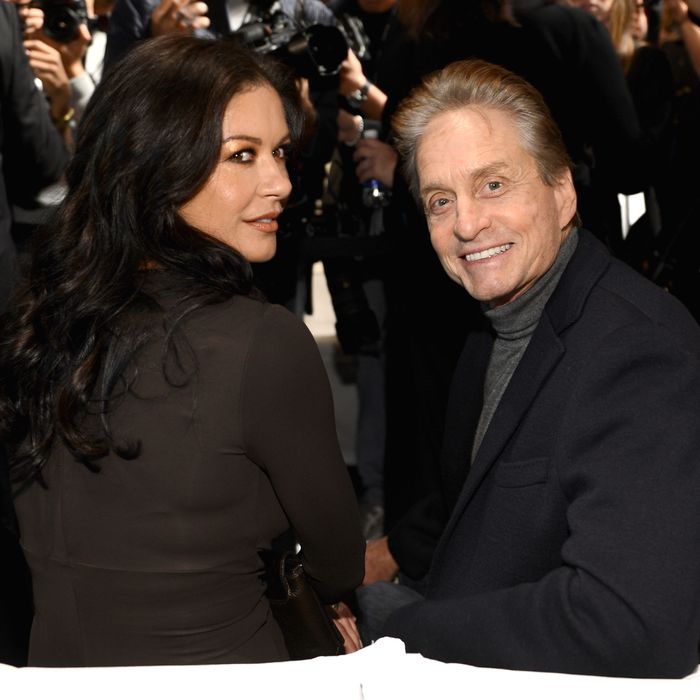 Photo: Dimitrios Kambouris/Getty Images
It was all about the brunettes at Michael Kors this morning, to the point that when the PR team was bringing a leggy blonde out from backstage, one of them turned to the other and said, "Wait — who's that one?" If it makes them feel better, we didn't recognize her either. The real meat of the front row was clustered to the right of Poor Anonymous Blonde. She was directly next to a red-clad Kat McPhee, who continues her reign as Fashion Week's Crankiest Face. We will leave this week feeling more Team Ivy than ever after seeing a sullen-seeming Kat McPhee purse her lips at an endless series of frocks.
McPhee was right next to Marisa Tomei, who looks sincerely fabulous and needs to launch a line of anti-aging creams for QVC, because either she knows her skin care or she is a vampire, and either will make for great late-night TV. We spotted her making what looked like polite conversation with The Newsroom's Olivia Munn. We are historically — in the interest of full disclosure — not a huge fan of Munn, but she's kind of good on The Newsroom, and she looked really great in a green Kors dress. We are a bit collectively nauseated. Is that the way it feels when you're starting to come around on someone?
We needed no convincing in regards to the final two bold-faced names, though, and neither did any of the security guards in the venue, all of whom kept asking when "Catherine and Michael" would be coming out. And not just because they wanted to run crowd control. Those two have serious charisma, and that's saying something considering that Michael Douglas is currently growing out his light-brown Liberace dye job and therefore his hair looks straight-up insane, with two inches of striking silver fading into bizarro Trump-hued tips.
Catherine Zeta-Jones, on the other hand (and not to oversell it), is maybe one of the best-looking people we've ever seen in person. She and Michael chatted throughout the show — especially him. It seems Michael Douglas has a lot of thoughts — and she applauded enthusiastically at the end, culminating in a full-on "WOO-HOO!" when Kors took his runway bow. Some people (ahem, Kat McPhee) could take a lesson.