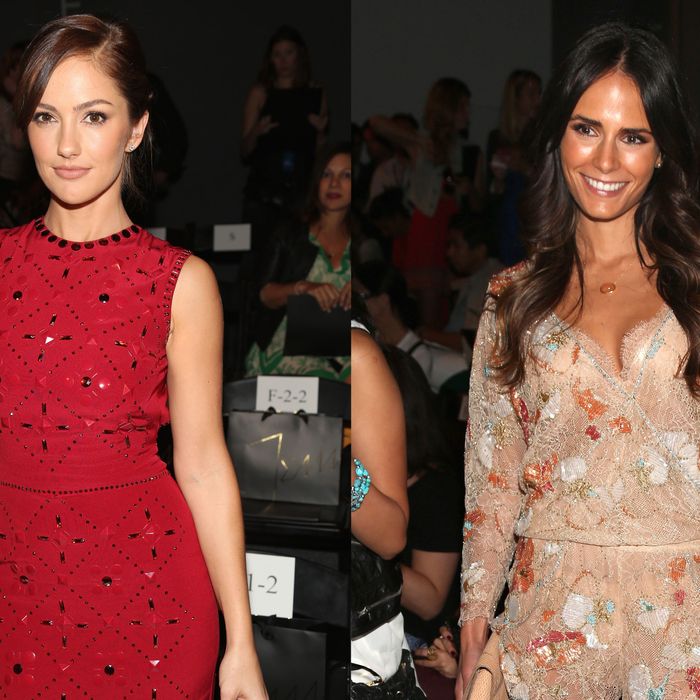 It's no secret how much we love a celebrity scandale, real or imagined, so we had high hopes for shenanigans on Tuesday at Jenny Packham when we got a look at the front row. First out was Friday Night Lights actress and Derek Jeter ex Minka Kelly, arm-in-arm with Brad Goreski — who, by the way, seems to have been practicing his Major Photo Face in the mirror in a way that would make Tyra Banks proud — and looking very chic (and un–Lyla Garrity) in a red beaded dress. Moments later, another former Jeter flame, Jordana Brewster, came out in incredibly tiny shorts and perched on Goreski's other side. The women were extremely cordial to each other and even shared a couple of laughs, though that was about the extent of it; it's probably for the best that they're mature and classy about such things, but still, we were oh-so-tantalizingly one Mariah Carey (or Jessica Biel, or Vanessa Lachey, or possibly Random Lady From Nightclub) away from it being a juicy episode of This Is Your Life.
Lauren Conrad was there again — we've seen her more this week than we have in the last two years; does this mean Heidi Montag is close behind? We hope not, because she's not passé enough to be retro yet. L.C. gave her head a break from her otherwise-omnipresent updo and wore a party dress that was only a hair longer than Brewster's lacy shorts. Between them sat actress Madisen Beaty of the upcoming The Master, whom photographers first thought was Kirsten Dunst. Obviously it's better when people think you are you, but failing that, being somebody's Dunst doppelgänger is not such a terrible fate.
Brewster whipped out her cell phone camera mid-show upon spotting a particular beaded yellow dress, which probably means it will end up in her closet someday — that, or the closet of her Dallas alter ego, who is apparently in store for some better fashion moments this season than her trademark jeans and boots. "I'm off of the ranch and more in the office, so it'll be a lot more tailored," she said. "I love collaborating on that with our costumer. We go shopping together and everything." Brewster said she got goosebumps the first time she saw her name in the iconic Dallas credits, but that she hasn't yet graduated to getting to try on J.R. Ewing's iconic Stetson. "I wouldn't dare. Just to be near him is enough," she said. "The fact that the three icons are in the show really makes it. It wouldn't be the same without them." Technically, that's five icons: Linda Grey, Patrick Duffy, Larry Hagman, and the two majestic twirly thatches of keratin vines that serve as Hagman's eyebrows. "You know, at first I was like, 'What is everyone talking about?' but then I saw them on TV and I totally got it," she laughed. "The camera does accentuate them, for sure." Or maybe they are sentient and become alert when they detect drama. In that case, we'd probably get along great with them.