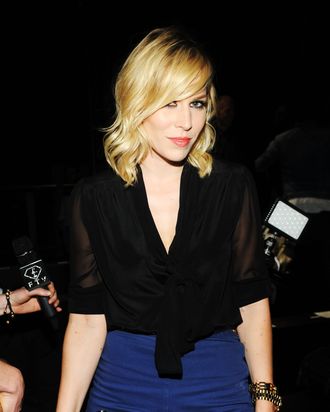 Photo: Desiree Navarro/Getty
It was no surprise that Adrien Brody was the first celeb out from the backstage area at Diesel Black Gold on Tuesday afternoon — he attended their Milan show in June and a party they threw in March, which makes us think he has recently turned into some kind of Diesel megafan. The Academy Award winner strolled out from back stage early, looking slouchy and collected, then made cool small talk with a variety of people before slouching down into his front row seat to take in the show. "He made me feel so much better," a reporter gushed to her cameraman as she pushed by us after a chat with Brody. "I was starting to feel down today but then I saw him and I was like, WHAAAAAAAAAAAAT!!!!" The cameraman just looked stoic in response.
We ourselves felt a bit WHAAAAAAAAAAAAT when we realized we were sitting behind one of the two Celebrity Rows — what better place to really eyeball them, after all? — on the other end of the runway from Adrien Brody. We felt whatever the opposite of WHAAAAAAAAAAAAT is, though, when we saw Natasha Bedingfield take her seat in front of us wearing super, super short shorts — not because she wasn't pulling them off, but because we have already seen her so much this week that we are getting a mild case of Bedingfatigue. She was placed next to Mia Moretti and Caitlin Moe, both of whom looked slightly bedraggled and who seemed to only manage the bare minimum level of socially acceptable friendliness to Natasha when she leaned over and politely introduced herself. In their defense, though, at least three fourths of fashion week is probably really hungover by this point.
Everyone was settled down and waiting for the show to start when there was a giant frenzy near the backstage area and the PR folks hustled show regular Petra Nemcova out and directly into a Brody-adjacent seat — everyone in Nemcova's vicinity acted so excited when she took her seat that, down on the other end of the runway, we thought she was Olivia Wilde. As part of her Wilde disguise, Nemcova was sporting an incredibly complicated braided hairstyle and a great deal of makeup, and seemed to be having the best time ever — chatting, laughing, pointing gaily at a variety of outfits. Apparently, that Brody WHAAAAAAAAAAAAT is contagious.