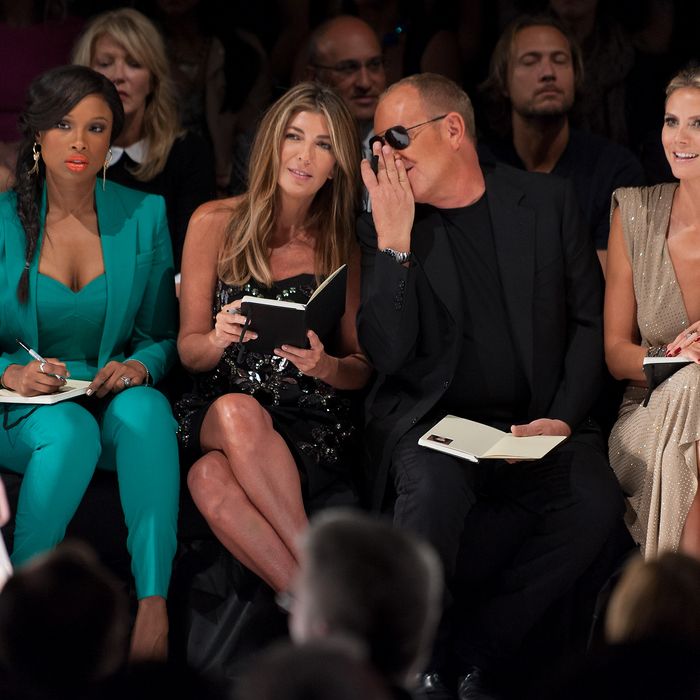 Photo: D Dipasupil/FilmMagic
The Project Runway finale audience is always chock full of former contestants, but one of them — much as he did on TV — totally stole the show on Friday: Mondo Guerra arrived early in a shorts ensemble we can only describe as "S&M yodeler," complete with a very tall hat (we pity the fool who had to sit behind him) and a resplendent mustache. "Do you think that's real?" a staffer wondered aloud to no one in particular. A nearby cameraman joked, "He stole that right out of my closet." This getup was clearly irresistible, given that a variety of fans — including some obvious pre-teens and a horde of his Runway cohorts — took photos with him. We are always happy to see Mondo commanding attention, because we love him, but we can't help wishing he had shown up looking more like, you know, Mondo, and less like the Sacha Baron Cohen version of himself.
As he caught up with his TV cohorts — our favorite: the divinely groovy Mila Hermanovski, whose blunt cut bangs and bob always make us want to copy it until we remember it would look terrible on us — celebrity row slowly filled up. Troian Bellisario from Pretty Little Liars paired her patterned spandex-looking pants and a corset top — imagine if Maxim put out an all-cycling edition — with a very cool black leather jacket. In fact, despite the humidity, leather jackets were the theme of the day: Dania Ramirez picked a green one that was ventilated with tiny pin holes all over (smart, if you insist on wearing leather in this weather), and Debra Messing swanned in wearing one with black pants and a bushy bun coiled on the crown of her head. Messing, a guest judge from this past season, laughed loud and often while waiting for the show to start — especially when Michael Kors came out for his photo op with the judges, squealed at the sight of her, and ran over for a kiss. We've decided this means she is fun at parties, not least because the stories from the set of Smash have got to be epic.
The judges themselves all looked pretty great. We are not sure how Nina Garcia looks better and better every year, but we'll definitely have what she's having. Heidi had on a very Klum-ish spangly gold dress with an open back and some bare side-ab on the front, but it's hard to argue with that body. It wins every time. Guest judge Jennifer Hudson wore a vivid green jumpsuit with a matching jacket and a side braid, which looked … sort of good, yet not quite as sophisticated as we would've liked. Side braids are so Serena Van Der Woodsen, and even Serena would probably admit that she herself is so two years ago.
If you'd rather go into the finale knowing nothing about anything,  stop reading this now or forever hold your peace. Everyone still with us? Excellent. Here's the skinny: The show itself was more impressive than recent years from a technical standpoint — good craftsmanship went into many pieces, and of the eight designers who had to show in order to prevent spoilers, we couldn't spot any potential bogey contestants who visibly blew off the task. However, none of them blew us away, either. Christopher seemed the most genuinely emotional and thrilled, so it's possible he made it; Elena was incredibly minimalist in her remarks but beamed her way down the runway, so by body language alone it's possible she did too. Her collection of futuristic clothes shot through with neon was probably the most interesting of the lot, although the bright yellow and green makeup made the models look a bit like toddlers who just ate their crayons. Fabio's looked technically very adept but also rather like the sort of thing you'd expect to see in the closet of a woman who lives in New Mexico and buys a lot of Georgia O'Keeffe prints. Ven's dresses felt dull and derivative — both of himself, and of others; in our notes we called it "Badgley Mischka Lite — VERY lite." Dmitry's was very Bebe. Gunnar had a very cohesive aborigine theme, but — as one always fears when a designer pipes up, "I was really inspired by the Aborigines" — took it way too far, complete with face paint, and seemed both crabby and tense when he took his bow. And Sonija's was unfortunately a hot disorganized mess that included see-through lace pants befitting the fanciest of hobos.
"Well, they can't have none of them win," sniffed a lady on the way out, trying to puzzle through who the finalists might be. Joanna Coles was more circumspect: "I've been wrong before, so I don't want to give you any clue, but I do think I have a sense who the winner is," the new Cosmo editrix said. It's not Harvey Weinstein, who brushed past us a moment later. "Who the fuck are all these people?" he groused. We don't know, Harve, but we're pretty sure a lot of them are on your show.