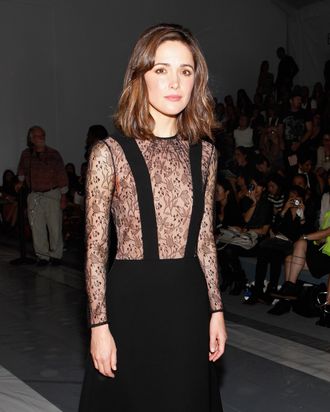 Photo: Amy Sussman/Getty Images
"This is like a parallel universe," we overheard Rose Byrne say as we walked into the Jill Stuart show on Saturday morning. It certainly was Bizarro World, given that Rose Byrne was sporting a black lace outfit we also saw on two other total randoms sprinkled throughout the audience, and Kelly Bensimon was wearing what looked like a new Jill Stuart frock. Rose Byrne is an Emmy-nominated actress. Kelly isn't even a Housewife anymore. Shouldn't those looks be reversed?
Luckily, Rose seemed unfazed — as far as we could tell, she actually didn't interact with Kelly at all, which makes us think she must be a closet RHoNY watcher. She chatted enthusiastically about the movie she's been filming in Atlanta with Owen Wilson and Vince Vaughn, The Internship. "They're hilarious and very professional," she quickly noted, as if to head off the old, "And how's that going?" question, and then reflected that she's been "eating [her] way through Atlanta," before telling the assorted reporters that she actually has no idea what's been happening at fashion week thus far. "I've been out of town," she said. "I was at the Democratic National Convention, so I haven't gotten up to speed yet." When asked if going from the DNC to NYFW in less than 48 hours was causing any psychological whiplash, Rose said, "It's really weird," then thought for a moment before correcting herself: "Actually, it's not that different. It was as chaotic there as it is here, in a way." Although presumably with fewer Housewives.