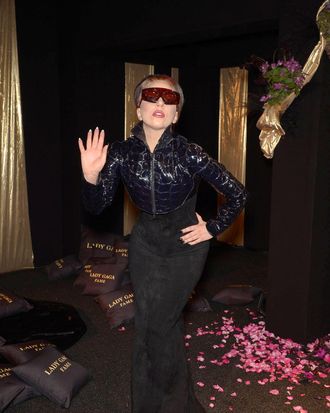 Photo: Dominique Charriau/Getty Images
Lady Gaga, who served as the music director for the Mugler show in Paris this week, recorded a rap song for the soundtrack that referenced what has officially reached feud status between her and Cathy Horyn. Their conflict was recently revived by a brief spat (or really, more of a misunderstanding) between Horyn and Oscar de la Renta, which Gaga inserted herself into; she was subsequently rebuked by Horyn's longtime boyfriend, Art Ortenberg. Anyway, Gaga's rap is titled "Cake" and features her voice distorted to sound like a man's. Here are the lyrics, which you can also hear for yourself in the runway video. 
Ortenberg, you can suck my dick/ Walk bitch, you ain't Lady Gaga/ Nicopanda got style, trick/ Cathy Horyn, your style ain't dick/ Walk a mile in these foot-high heels/ I run in these, you ain't runnin' shit/ You chew beef, I wear meat… I'm getting fat, and so is my bank.
Hey, congratulations to Cathy and Art! You have now been celebrated in song by one of the most famous pop stars of our time — and during a particularly busy week for her, on top of that. What's more, Gaga's lyrics (particularly the "dick/dick" rhyme) effectively validate everything Ortenberg wrote in his WWD letter, so cheers.
Related:
Cathy Horyn's Boyfriend Tells Lady Gaga to 'Grow Up'
Lady Gaga Takes Oscar de la Renta's Side Against Cathy Horyn
Oscar de la Renta Won't Ban Cathy Horyn Over This Hot Dog Silliness
Oscar de la Renta and Cathy Horyn Trade Medium-Rare Insults [Updated]