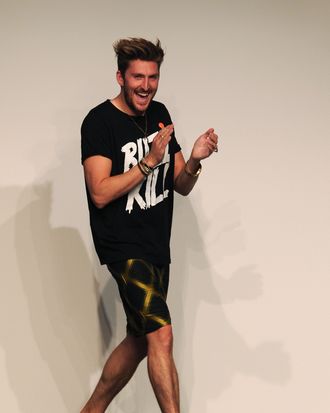 Photo: Carl Court/AFP/Getty Images
Henry Holland's shows famously draw his group of gal pals to the front row, and yesterday's was no exception. Paparazzi swarmed like vultures around Alexa Chung, Leigh Lezark, Kelly Osbourne, Poppy Delevingne, Pixie Geldof, and Nicola Roberts — while paying no attention whatsoever to British Vogue editor Alexandra Shulman. And the kids of the nineties took center stage on the runway, too, with a soundtrack that included Shampoo's "Uh Oh! We're in Trouble," Deee-Lite's "Groove is in the Heart," and 2 Unlimited's "No Limit."
Afterwards, Holland was feeling good backstage. "It's been a nice experience this season — today's been very calm and relaxed."

The collection, called Buzz Kill, was described in the show notes as "The House of Holland girl has developed an attitude problem." It certainly started with a tougher feel — wider checks and darker hues including burgundy and a somber blue.

While he ended with rebellious neon tie-dye pieces, it was clearest at the beginning of the show that Holland meant business. The first look was a sharp belted blazer over trousers, and the second a very ladylike strapless dress. "I'm 30 next year," he said. "I go to different events and hang out in different places than I would when I was 25 and starting out. I'm creating clothes for a girl who now needs different outfits."

More than half the collection was dresses. "I normally do a lot of separates, but this time there are many more dresses than I've done before. There are also some really beautiful floral embroideries and lace detailing. I want it to feel quite easy but also really polished — dresses you can throw on and go to an occasion."

Though camera crews and journalists were circling, tapping their feet for interviews, far be it for us to leave without inquiring about Holland's health. On Friday, after all, he tweeted a picture of wind relief tablets (great for bloating and indigestion) with the caption "One of those days." Was he feeling better now?

"I can explain that! I stepped away from my computer for 90 seconds and the girls in the office placed them on my keyboard and said, 'We believe these are yours?'" Proving that even grown-up girls can find a good gas prank funny.
See the complete House of Holland spring 2013 collection here.