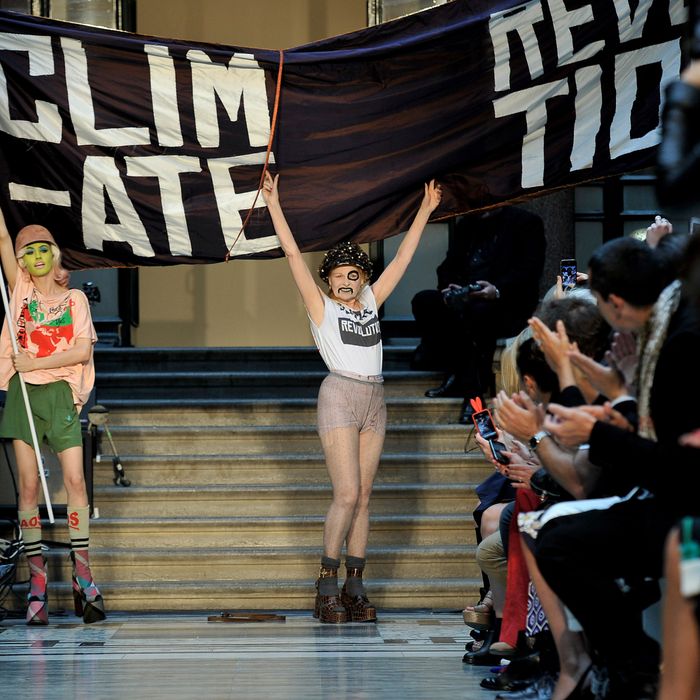 Photo: Gareth Cattermole/2012 Getty Images
To see Vivienne Westwood's Red Label runway presentation yesterday afternoon, attendees had to walk through a metal detector manned by the requisite hot fashion show security staffers. The detector couldn't have been turned on, though, judging by the crazy, spiky jewelry worn by many in the show's eclectic, theatrical crowd, which didn't set off any alarms. Also spotted: veils, bushy beards, a tutu, and what appeared to be a cluster of small branches spray-painted bronze. (But the most eccentric showgoer skipped the zany accessories. He wore only a white plastic tarp with an oversize Snakes and Ladders board printed on it, toga-style. And heels — high heels.) 
In a beautifully marbled and sky-lit atrium inside London's imposing Foreign Commonwealth Office, Westwood showed a very, well, Westwood-ian collection. The 42 looks included her signature stripes and knitwear; figure-flattering drapery; and what would logically be considered prim separates were it not for that edge, which is ever so easy to mimic but ever so hard to do even half as well. Think mad girls circa Mad Men, taking over the typing pool one skewed hemline at a time. Theatrical wigs and painted faces added a touch of whimsy, because Vivienne wouldn't have it any other way. 
And in further keeping with Vivienne's well-honed M.O., the show's finale-cum-protest scene championed her enduring environmental activism. Carrying two long, gold curtain poles, models Charlotte Free and Alice Dellal walked Vivienne, dressed in what appeared to be brown velvet drapes to match, out for her bow. A little entangled in the heavy-looking fabric, Vivienne stumbled walking down the stairs — though her chunky platform sandals may have been responsible. Then she disrobed.
Well, almost. With some gentle tugs from the models at her side, her wrap unwrapped into a large banner. Its slogan: "Climate Revolution." (It was also recently paraded at the Paralympics Closing Ceremony.) Now clad in a simple T-shirt, high-waisted hot pants, and a floppy hat (oh, and some face paint), Vivienne posed beneath her latest eco-mantra proudly, while the audience cheered and applauded her stance. And then most were whisked off to the next show on the day's schedule in a fleet of specially provided cabs.
See the complete Vivienne Westwood Red Label spring 2013 collection here.