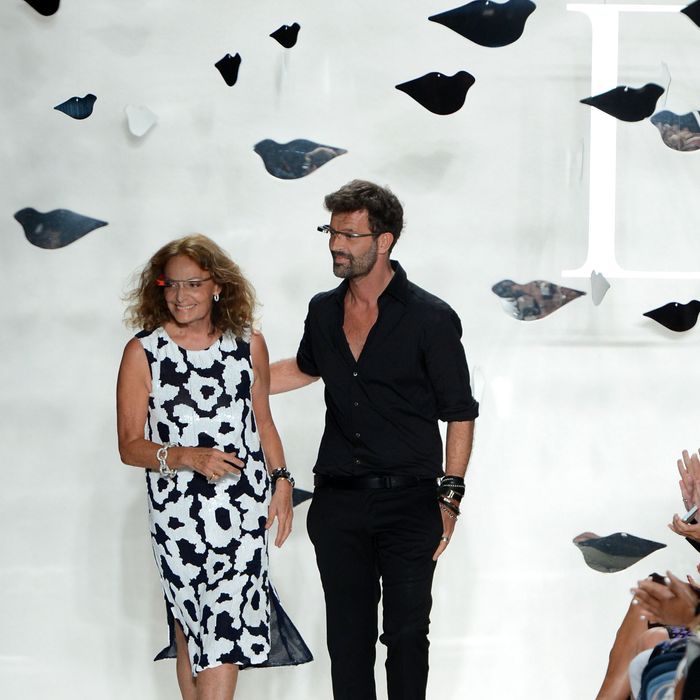 Photo: Frazer Harrison/Getty Images
Diane Von Furstenberg's runway shows are always a zoo. Fighting your way through the crowd of movie stars, TV personalities, socialites, and normal fashion show attendees — plus all the photographers taking pictures of them — without unintentionally photo-bombing, say, Sarah Jessica Parker or the Courtin-Clarins girls, takes a special kind of coordination. (See, you want to get to your seat without too much jostling but you also can't stop staring at all the celebrities, which makes it hard to watch where you're going.) Anyway, during the aforementioned process we noticed one publicist wearing what looked like wire-rimmed bifocals with some sort of doodad attached to one lens. Well, she looks silly, we thought to ourselves.
The eyewear turned out to be what that mysterious collaboration between Google and Diane Von Furstenberg was all about. According to the Times, they're called Google Glasses; they have a built-in camera (the doodad we noticed) and can provide directions. In other words, they're an iPhone you can wear on your face.
A bunch of models wore said gadgets down the runway, and from where we were sitting we could see Diane wearing them herself backstage as she ushered the girls onto the catwalk. The purpose of this exercise? Apparently the glasses were recording the whole show, and the resulting footage will be made into a short film that will come out next week. It's unclear whether the glasses will be available to the general public, but after this splashy display, it's surely only a matter of time before they are.
The collection itself, which walked beneath hundreds of bird-shaped mirrors hanging from the ceiling, featured lots of breezy Grecian silhouettes, sculpted ruffles, polka dots, and cheerful color-blocking. Some Matisse-esque curved shapes overlaid on skirts and jackets should prove popular. In short, it was DVF's usual flattering fare, and it'll sell well. 
While taking her traditional finale saunter down the runway with creative director Yvan Mispelaere on her arm, Diane retrieved Google exec Sergey Brin from his front-row seat and took him along for the walk. What kind of money changed hands thanks to this collaboration is unknown, but hey — wealthy, powerful people scratching each other's backs is hardly a new phenomenon.
Related: Diane Von Furstenberg Reportedly Partners With Crocs-Wearing Google Exec