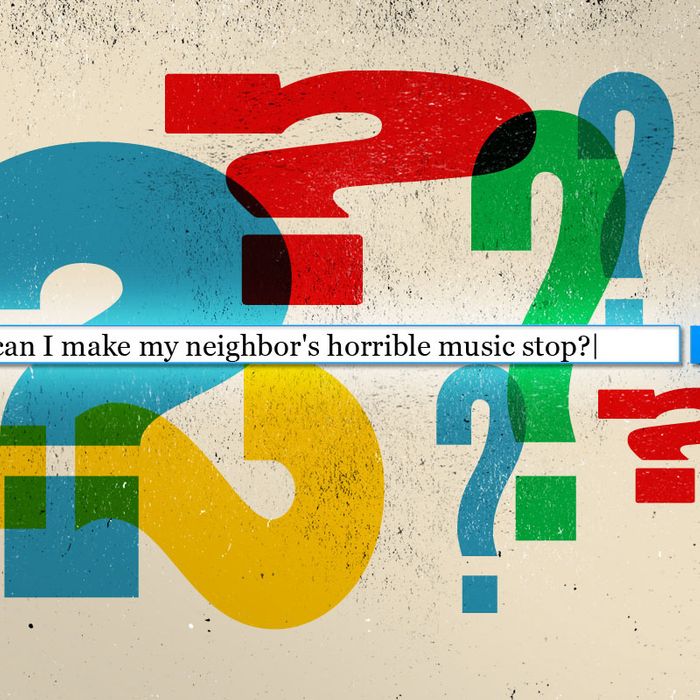 Welcome back to Ask Google, in which we use a device designed for driving directions and plagiarism to solve our emotional dilemmas — with a little help from Google-whisperer Jack Stuef. This week: noisy neighbors, a height fetish, and nonverbal communication about jizz.
I moved into my apartment building a month ago, and there's a big problem: Somebody living below me plays the song "Moon River" LOUDLY and REPEATEDLY. Like, I hear it at least 20 times a day, often for hours at a time, day or night. Sometimes it's the same version on repeat, but there's also a lot of covers on a lot of different instruments, and the guy who lives there plays them ALL, in addition to pulling out a guitar himself and singing a particularly slow and mournful edition of it. I've tried knocking on the door to ask him to stop, but I got no answer, and slipping a note under his door didn't work either. My landlord says it's not his problem. Dear God, how do I make it stop?
Clearly this gentleman is trying to incite the plot of Breakfast at Tiffany's with you, and you have yet to pick up on the hint. It's been a long time since I saw that film, but I believe you're supposed to enter his apartment through the fire escape to begin this romance, not knock on his door.
But if you're not into cigarette-holder cosplay, you're going to have to find a way to end this nuisance.
Considering "get neighbor to stop playing music" returns 110 million results on Google, this is a rather common problem. There's a post near the top from Lifehacker, the kind of site people actually trust for this sort of advice, but it wouldn't be Ask Google if I just stopped there and missed this guy (ninth result):