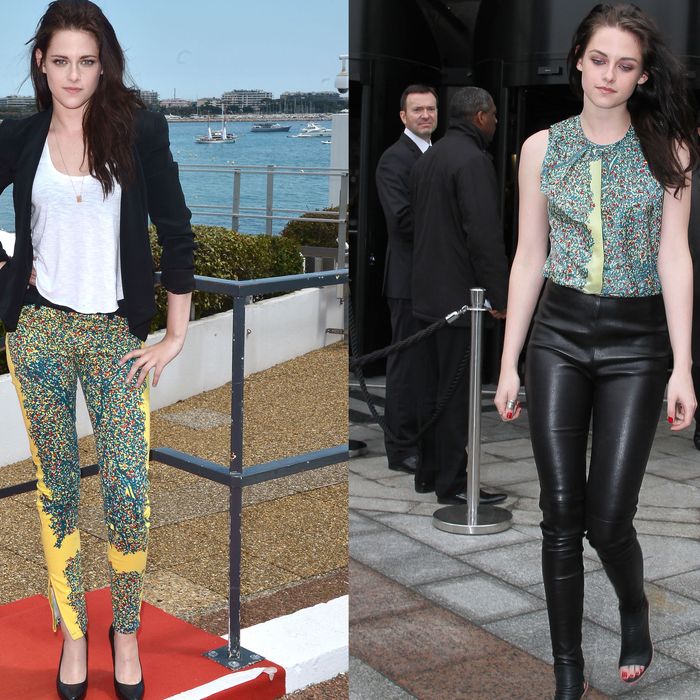 Kristen Stewart's Balenciaga pants.
Photo: Getty Images
As the face of Balenciaga's Florabotica perfume, Kristen Stewart will attend the fashion house's show in Paris at 10 a.m. on Thursday, according to WWD. This means that by the time we're awake tomorrow morning, the Internet will be awash in pictures of Kristen presumably wearing a pair of mesmerizing pants, as she is wont to do. Thanks to a recent interview, we even know how she'll manage to travel to the show undetected: 
It's hard. I don't want to give my secrets away, but you, like, sit low in cars. And then you go into an underground parking garage and get into another car and then you leave.
Let's resist the urge to make a tasteless "sitting low in cars with boys" joke and instead check in with Liberty Ross, who's currently in L.A. and doesn't seem to be planning any Paris appearances (but you never know). E! reports that she went to the Nokia Music concert for Janelle Monae last night — without her wedding ring, of course — where she had drinks in the VIP section with a female friend. E! adds that she left ten minutes before the concert ended "to beat the traffic." Or perhaps just to have enough time for a quick "underground parking garage" detour on the way home, eh?
Related:
Do Not Be Confused by Kristen Stewart's Pants
Kristen Stewart Fulfills Her Balenciaga Duties With More Exciting Pants