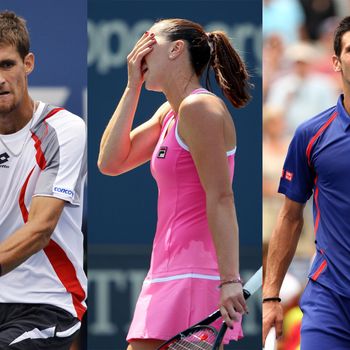 In a tiny beauty salon down the hall from the U.S. Open players gym, where Maria Sharapova was cooling down from her rout of Mallory Burdette Friday afternoon, Slovakian singles player Martin Klizan was celebrating. 
"To the skin! To the skin!" Klizan said as stylist Julien Farel, wearing a pained expression, fired up the electric trimmer. The unseeded Klizan was commemorating his upset of fifth seed Jo-Wilfried Tsonga with a shaved head — his coach's. The haircut was the wager of their bet on the Tsonga match, and if Klizan, who opted for a half-inch trim, kept winning, coach Juraj Dulik might part with his body hair.
"I don't like this look," Farel complained, eventually agreeing to give Dulik a three-guard buzz cut. "It's because I used to be in the army."
Now the owner of Madison Avenue's Julien Farel Salon, the French-born Farel is best known for his annual pop-up salon in the players' lounge at the heart of Arthur Ashe stadium. Now in its sixth year, the salon has seen the clippings of stars like Novak Djokovic and Rafael Nadal and has become an oasis for the hustling journeymen players in between singles and doubles matches.
"You can relax here and get some treatment," Russian Elena Vesnina told The Cut from the pedicure chair, fresh off a doubles victory.
And how better to celebrate surviving to play another night under Arthur Ashe's bright lights and roving spider camera than with a mini-makeover?
Many televised tennis tournaments have hair salons for players, but Farel's is known for its breadth of offerings — braided updos, blowouts, manicures —and its open door.
"This is the most comprehensive," said Zainab Saqib, who stopped by to schedule an appointment for her boyfriend, the top-100 American Rajeev Ram, and stayed for a pedicure for herself. "In Australia, they don't let anybody but players use it and the other ones only do haircuts." As for her boyfriend, he's not preoccupied by his on-court appearance. "I keep telling him he needs to get his hair cut," she said, "but he's going bald so he's a little bit conscious of that."
Former world No. 1 Jelena Jankovic is a salon favorite, stopping by almost daily to get her nail polish changed. But her options are limited, color-wise. Counter to the baroque trends in nail art, house manicurist Bastien Gonzalez favors a medical, minimalist approach that eschews most polish. His salons, located in luxury hotels in Dubai and Hong Kong, use a buffing method that leaves nails shiny, dark pink on bottom and bright white on top, like nature's French manicure. (In fact, Gonzalez said that the French manicure, which predates colored nail varnish, was invented to heighten the pink-white contrast created by a nice buff so it would show up in early black and white films.) The former podiatrist was surprised to see that tennis shoes inflicted more damage than the masochistic high heels his clientele wears.
"Their feet are worse than fashion people," Gonzalez said, "Even the young girls. Corns, bunyons … "
Vesnina's feet looked well cared for, judging from a few stolen glances as she tweeted from her iPhone while Gonzalez's staff massaged her feet. She said she can ignore the cameras on court, but admitted to a little mirror time pre-match. "If I need something done, you know, I'm a woman, I have to look at myself."
Which is not to say that male players are immune to the spectacle of one of tennis's most celeb-heavy and most closely watched outings.
 "You're in New York," Floridian doubles player Jesse Levine said as he emerged from a haircut. "You want to look good."