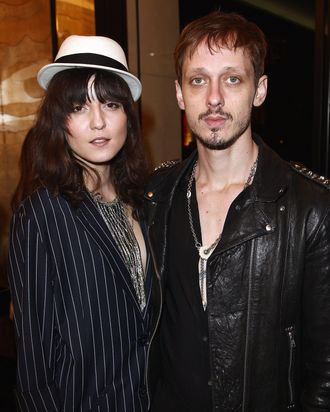 Photo: Julien M. Hekimian/Getty Images
After taking an almost two-year-long break from the fashion show circuit (returning to the runway last season), 30-year-old Irina Lazareanu is now fully back in the game, she told the Cut; however, things are a bit different these days. With teenagers as colleagues, "I kind of feel like grandma backstage, but it's cool, you know?" she remarked at cocktails for MADE's Paris launch at Les Deux Magots last night.
Appearing not the least bit grandmalike in a long-sleeved Anne Valérie Hash jumpsuit with tuxedo lapels, this season, the model's already turned up at Marc Jacobs and plans to do Louis Vuitton on Wednesday.
And she's got plenty of extracurriculars, explaining: "I just finished a single with Echo and the Bunnymen. We did an LP with three songs and it's called 'Madeleine.' I think that's coming out end of November. And I've got my magazine that's called Rika — I do that with my friend Jen [Carey]. And I'm getting married. His name's Keir Knight, and he's a contemporary dancer. The wedding is next August and we're doing it at Yoko [Ono]'s house, so that's going to be really cool."