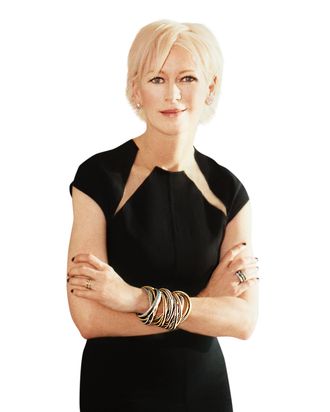 "I grew up reading Cosmo," declares brand-new Cosmopolitan ­editor-in-chief Joanna Coles, one of her peculiar pedicure-exposing boots akimbo on her purple velour couch. She's from Yorkshire, in the north of England—her father is a teacher, her mother a social worker—and when she speaks she sounds much more arch than the prim American geishaspeak of the magazine's legendary founder Helen Gurley Brown, who died last month. "When it would come, I would sequester myself and read it for two hours, and then I would fling it across the room and say, 'Right now, my life is going to begin! I am going to improve in every single area!' It seemed wildly sophisticated, like this bigger, brighter light would shine in my room."
Just over a decade ago, Coles had been the New York correspondent for the Times of London when she was asked to return home to cover Parliament—a very good job. But the prospect set off a panic—that the places she'd live, the dinner parties she'd attend, the places she'd holiday would become too drearily predictable. So she decided to become a magazine editor, here at New York and then at More, eventually taking over Marie Claire in 2006. This September 10, she moved four floors upstairs in the sleek Norman Foster–designed Hearst headquarters to the "big chair" at the disciplined cash cow of factoid-y female empowerment. I meet her the next day, and she's not even had a chance to read Brown's 1962 kittenish liberation masterwork, Sex and the Single Girl, though she has ordered it. "I realized that one of the reasons it's going to be fun to edit a magazine about sex—sex is free," she says. "You don't have to be rich to have good sex. Which, in these times, is good."
Coles has invited me to sit in on a week-one meeting with her abruptly inherited staff; she wants to "get a sense of who they are," over a plate of pastel cookies the girls (and one man) eye nervously. Coles isn't yet sure of their names, or what they do.
"Oh, you're Jessica Knoll," she says to a young woman in a lace top who writes a great deal for the magazine. "Kate told me you're a rock star," she says of her predecessor, Kate White. "But Kate's gone, so it doesn't matter now."
Then, with playful precision, she begins to grill her staff on what they watch (New Girl, Housewives, Kardashians) and read online (Gawker, Fug Girls, Facebook), the books they like (Gone Girl, apparently, fell apart in the end), whether they tweet (they do, they must). The insiders' focus group agrees that Mindy Kaling is a Cosmo Girl. Less clear is whether the girls on Girls are. "I feel like I can't watch it," says senior editor Anna Davies, who is wearing a large silver butterfly around her neck and leopard-print heels. "It's just too close. I feel like if I do watch it, I'll get confused between what happened on the show and what happens in my life." Everyone laughs nervously.
"Perhaps we should explore that," says Coles, now in Piers Morgan mode. "Go on, anything else you're scared of?"
"Um, everything."
Speaking of pop culture, "Why isn't there slightly more of that in the magazine?" the new boss asks. "Because what I am always struck with—this is a tremendously powerful and super-­successful magazine, but it doesn't feel like there is any particular urgency about it."
"The No. 1 thing when I'm pitching is, how can I relate this to the reader?" offers Knoll. "They don't necessarily care about our thoughts on, you know, culture, TV, books, whatever. They just want to know about themselves."
"What about Girls makes you uncomfortable?" Coles asks, turning back to Davies.
"I just felt that they were so whiny. You are living in New York, you are 24, and if you aren't having fun, you just need to go to the corner bar and meet a guy and just make something happen," she says. "I mean, no girl who is 22, 23 years old should be sleeping with a 23-year-old!"
"You mean, because it's not aspirational enough?" Coles asks.
"She needs a fortysomething-year-old vice-president from Morgan Stanley. Who will at least teach her how to have interesting, good sex."
"Who has had good sex with a 42-year-old senior executive at Morgan Stanley?" Coles asks. Davies raises her hand. "Are you still seeing the 42-year-old executive?"
"No. I lied and told him I was moving to California. And then I wrote a 'Modern Love' column about it. He still e-mails me."
"Intriguing," Coles drawls. Then, changing tack, she asks Knoll, who not long ago finished the "attack phase" of her pre-wedding diet (the same one that Kate Middleton used), where she is going on her honeymoon. The Maldives, Knoll tells her.
"Oh, fantastic," Coles says. "And you have to go now, because they're about to sink: 350,000 people, and they're all about to go under the water. So run, run."
*This article originally appeared in the September 24, 2012 issue of New York Magazine.