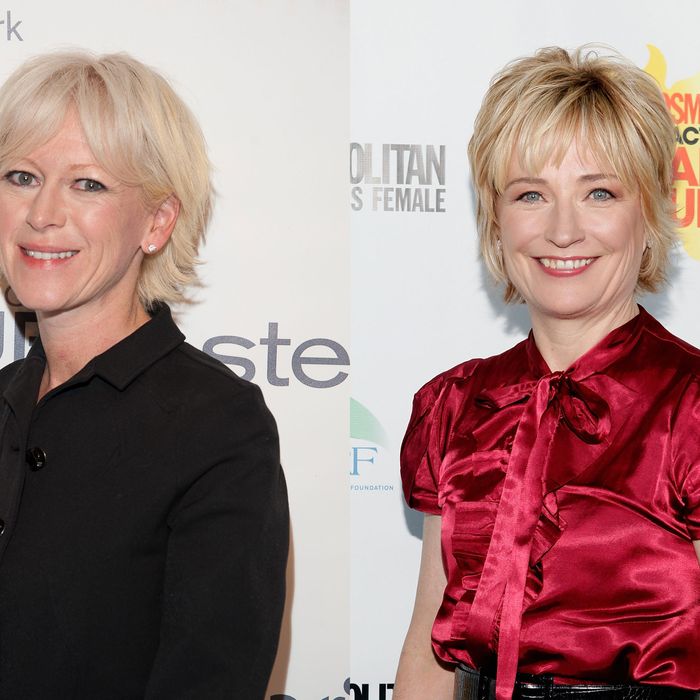 Joanna Coles (left); Kate White (right).
Photo: Dave Kotinsky/Getty Images, Cindy Ord/WireImage
Hearst announced today that Kate White is leaving her post as the editor-in-chief of Cosmopolitan after fourteen years. She'll be replaced by Joanna Coles, the current editor of fellow Hearst publication Marie Claire, on September 10. A successor for Coles has not yet been named; meanwhile, White will stay on through the end of the year to wrap up a few existing projects with Hearst president David Carey.
White's departure was entirely her idea, according to the Times (and, considering Cosmo's consistently healthy numbers, that makes sense). She reportedly told Carey in January that she wanted to leave the magazine and focus on her lucrative speaking engagements and book-writing career (she has published eight mystery and thriller novels and is completing her fourth nonfiction book). A 61-year-old mother of two, she told the Times, "I'm looking forward to working just 55 hours a week."
Coles is a fitting successor, particularly since Cosmo is already skating along just fine; she says their first move will be increasing the publication's online presence, which could also be said for pretty much all of Hearst's titles. (Coles has some experience there: Marie Claire's website has been redesigned three times in the past three years, with the latest version launching last January). But whatever will happen to Coles's position at Marie Claire? It's got to be a lot harder to convince someone to take that job than White's.
Update: That was quick: WWD confirms that Anne Fulenwider, currently editor in chief of Brides magazine, will succeed Coles's position. Prior to taking over at Brides in October 2011, Fulenwider worked under Coles as the executive editor at Marie Claire. In other words, Hearst is keeping things in the family, as usual.