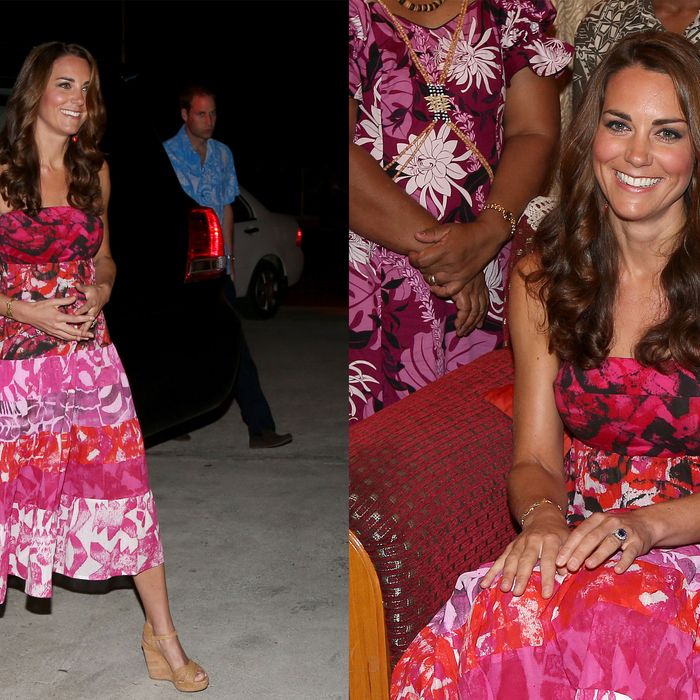 Kate Middleton's dress "gaffe."
Photo: Getty Images
Even though Duchess Catherine's meticulously planned wardrobe for her Diamond Jubilee tour of Southeast Asia looked flawless, it turns out that there was one minor (read: HUGELY IMPORTANT AND EMBARRASSING) mistake. You see, she planned to wear a dress from a local shop while dining in the Solomon Islands, but owing to some confusion she instead wore a garment from the Cook Islands, which are almost 3,000 miles away.
So how could such a horrendous gaffe have occurred? According to the Solomon Islands' Government House, it's all someone named Kethie Sunders's fault. You see, she made the unthinkable error of delivering too many gifts to the royal couple's hotel suite, presumably burying Kate and Will in so many delightful clothing options that they mixed up which outfits they were supposed to wear. Here is a statement from the local government officials, via the Independent:
We are incredibly frustrated that this situation has come about and see Kethie as entirely to blame. It was completely inappropriate for her to go to Their Royal Highnesses' room, which she filled with various things, causing confusion.
Oh, Will's blue shirt was from the Cook Islands, too, but no one really cared about that. Anyway, Clarence House also released a statement exonerating Kate and Will, who even double-checked with the local government to make sure they had the correct garments on before they went out: 
We saw they weren't the same design of the traditional clothes we were told would be gifted. So we checked with the Solomon Islands government to ensure the right ones were worn. We were reassured the clothes were correct, and so the Duke and Duchess wore them to the event. It was not learned until later in the evening that the clothes weren't from the islands. But it was understood that the Duke and Duchess intended to wear traditional Solomon Island clothes and this was appreciated. No offence was caused.
In other words, no harm done — except to the unfortunate Kethie, who'll be shamed for her overenthusiastic generosity for the rest of her life.