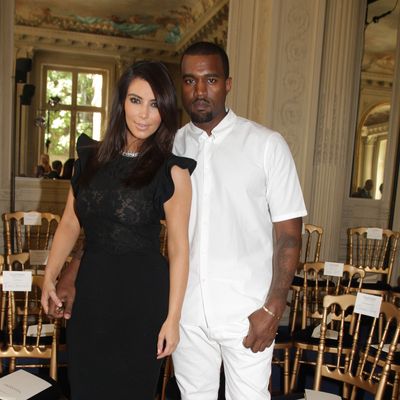 Onwards and upwards?
Photo: Eric Ryan/Getty Images
Kanye West won't show a collection at Paris Fashion Week this season, according to his label's PR firm, Karla Otto. It remains to be seen whether his line, which has shown for two seasons, will continue to exist at all, adds WWD. Since his line's poorly received debut a year ago, Kanye has only sold one product — a shoe designed in collaboration with Giuseppe Zanotti, which was carried at Colette in Paris — and his aspirations have been met with general skepticism by the international fashion community. 
But onward! Surely Kanye's hatching plans with the latest beneficiary of his fashion expertise, Kim Kardashian. He's not the type to bow out quietly, after all.
Related: 
See the Kanye West Look Book
'Fashion Designer' Kanye West Gives Kim Kardashian a Full Clothing Makeover So She Can Be 'More of an Individual'
Kanye West's Shoes Will Be for Sale!