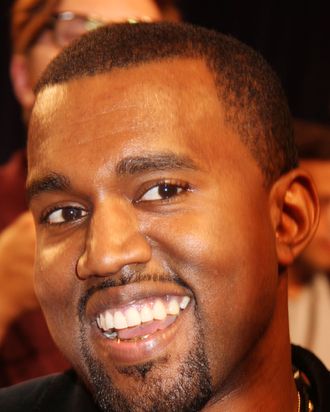 Photo: Nancy Kaszerman/ZUMAPRESS.com/Corbis
Sex-tape scandals present a celebrity catch-22: To halt the distribution of their tapes, celebrities must first confirm that said tapes exist and then outline what is in them, in order to send adequately specific legal letters demanding their removal. Kanye West has now subjected himself to this paradox, confirming that a video of him nailing an 18-year-old "Kim Kardashian look-alike" exists in order to stop its distribution.
With Kanye's confirmation in hand, TMZ described the contents of two West sex tapes:
Both tapes are impressively long — the first is roughly twenty minutes and the second is more than FORTY. And we're talking constant action. Seriously, the guy takes no breaks. It's incredible. Almost Sting-like.
Here's the part where you either emit a low whistle while nodding slowly, or wonder aloud what he does in the other 39 minutes, depending on your opinion of sex and/or sex tapes.
Previously, West confirmed taking "a picture of my hey!" where "hey!" is believed to mean "big ol' penis."