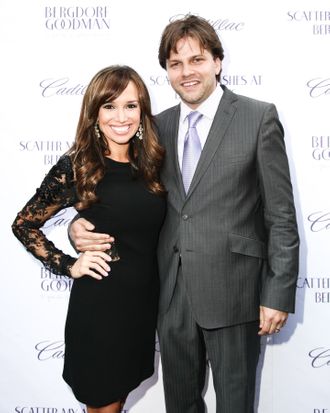 Photo: Matteo Prandoninyc.com/BFA
In the documentary Scatter My Ashes at Bergdorf's, writer-director Matthew Miele brings the history of the titular only-in–New York department store to the screen with a starry cast that reads like a fall afternoon at Lincoln Center: Vera Wang, Michael Kors, Oscar de La Renta. Similar to the book of the same title, the film draws on anecdotal accounts, plus camera trails with BG brass such as Linda Fargo, to unpack the clothier's 111-year history as fashion arbiter and kingmaker. We caught up with Miele last night, during a special Fashion Week screening at the Paris Theater, to discuss American aspiration, Karl Lagerfeld's humor, and retail therapy. Between bites of truffle popcorn, of course …
Why make a documentary about Bergdorf Goodman?
I was a screenwriter and I was doing a screenplay about a window dresser at Bergdorf Goodman. And I said, "Great, I would love to do more research on your store, do you have an archive?" And they said no. I thought, Wow, a store that's 100 years old, that seems impossible to me. I thought you could probably interview the world for this thing and do a documentary on the store. And they said, "All right, why not?" 

Your movie, Everything's Jake, was about a homeless man. That's a pretty big jump, no?
Well, you know, New York has every character known, from the bottom to the top. It is all aspirational to me. That was the most common word used in every interview. This is something to aspire to, to shop here. When you succeed in America, you get to fly on a private jet and shop at Bergdorf Goodman and enjoy that feather in your cap.
So Bergdorfs is a way of arriving?
I think so. In the society we live in, it is all about trying to do better. And to rise to the top and shop here is one of the perks, I guess.
How involved was BG in the process?
Pretty involved, because they authorized it, which is how we got the interviews. Karl Lagerfeld, Armani, Louis Vuitton — they wouldn't have come out if it was just me saying, "Hey, I want to do this movie." Bergdorfs had to authorize the telling, and that was important.
What was the most interesting thing you learned about the store?
The personal shopper, her name is Betty [Halbreich], she does retail therapy and she doesn't coddle her clients. She is very much direct and says, "That doesn't look good on you." She will be very pointed in her criticism. That shocked me. When people come here, they basically say, "Okay, Betty, have at me." It is more than a client experience; they do psychological stuff, they talk. It's like a therapy session, but it is at Bergdorfs. She is in the film; there is a whole chapter on her and she is just a great character. She has been a personal shopper for 35 years.
What is your favorite on-set story?
Karl Lagerfeld. The PR person said to me, "He is not going to answer any of your questions. He will just stay stuff and then he will leave." And then as soon as he sat down he was like, "What do you want to ask me?" And so I got to ask him everything — and he was funny, which I wasn't expecting. And he was so forthcoming. He didn't want to leave. 
What's up next for you?
There is a lot of interest from other stores like this. They are asking me to tell their stories. I can't say who, but one in particular.

Barneys?
No. Not Barney's. But in that league.