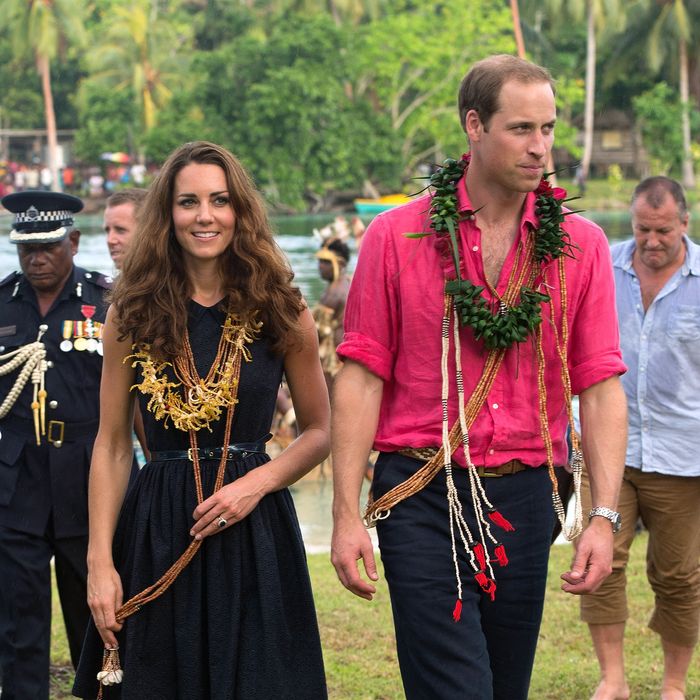 Kate and Will, not topless.
Photo: Samir Hussein/WireImage
This morning, a spokesperson for St. James's Palace stated that the royal couple has filed a formal criminal complaint against French tabloid Closer for publishing topless photos of Duchess Catherine last Friday. Taken earlier this month, the images depict Kate sunbathing and applying sunscreen to Prince William during their vacation in the South of France. The palace also confirmed that they've retained the services of Aurélien Hamelle, the attorney who famously represented John Galliano in court last year (he replaced the designer's first lawyer, Stephane Zerbib, in May 2011, and then helped the designer sue him for embezzlement). 
While the royal couple continues their Diamond Jubilee tour in Southeast Asia, Hamelle will attend a hearing tonight in Nanterre, just outside of Paris. The palace says they plan to seek damages and an injunction against further publication of the photographs, claiming that they constitute a breach of privacy. Although the photographer who took the pictures has not been publicly named, he could go to jail if the criminal investigation is allowed to proceed.
So where do these photos fall on the spectrum of "privacy"? The palace hasn't taken legal action against anyone who published the images of Prince Harry's naked bottom, which were taken under arguably different circumstances. On the other end of the scale, they're nowhere near as invasive as, say, the creepy Erin Andrews video taken through her hotel room's peephole a few years ago (she has since filed a $10 million lawsuit against the photographer and the hotel). It'll be interesting to see how this case shakes out, although the royal family will surely keep their distance from it as much as possible.