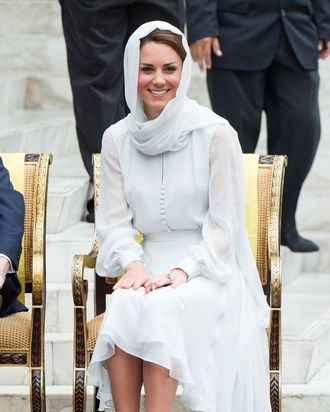 Kate Middleton, not topless.
Photo: Samir Hussein/WireImage
Danish tabloid Se og Hør has published more grainy photos that supposedly show the Duke and Duchess sunning themselves on a balcony in southern France, including the same topless pictures of Kate that came out in several European tabloids earlier this month. However, the spread also features some new photos (caution: link NSFW) that appear to show Kate on the same balcony with her bikini bottoms down. She's wearing a different swimsuit — a blue one — than she is in the original topless pictures and looks like she's in the midst of changing (she has a towel wrapped around her, but conveniently for the photographer, it's open in the front). The images are so blurry and low quality, however, that it's basically impossible to tell if it's really her, much less see anything else in detail.
While the palace announced today that they won't file charges over the recent photos of Prince Harry's naked butt in Vegas, these photos are obviously a far more serious case of privacy violation, and hopefully Galliano's lawyer is getting on this as we type. Kim Henningson, the editor of Se og Hør (which, incidentally, is the sister publication of the Swedish tabloid that printed a 60-page supplement dedicated to Kate's boobs a few weeks ago), explained her reasons for running the pictures: "It's a set of unique photos from an A-class celebrity," she told the Belfast Telegraph. "We are a leading gossip magazine in Denmark, and it is my job to publish them. If the British royal family wants to sue us, then it will happen then and we'll deal with it." Heck, we even want to sue them now.
Related:
Topless Kate Middleton Photos Seized and Banned in France
Topless Kate Middleton Photos Continue Their European Tour
In Shameless Celebration of Kate Middleton's Dance Moves