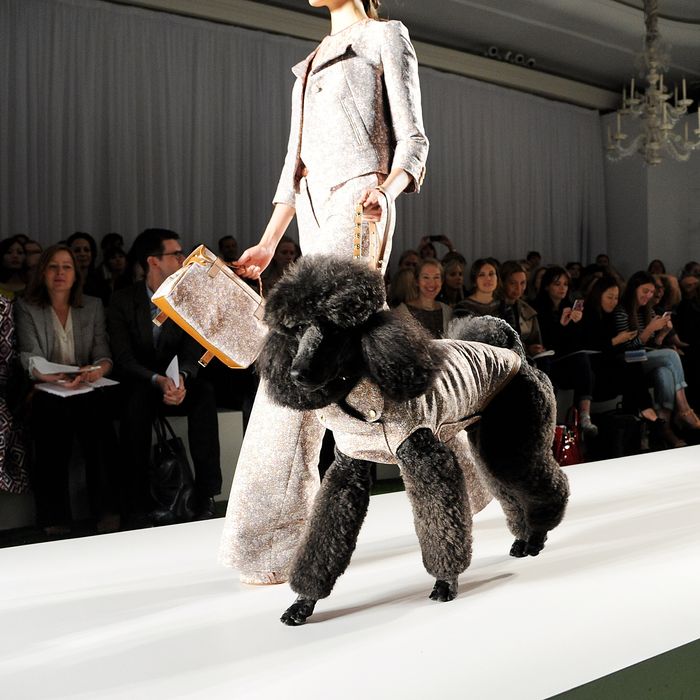 Photo: Dave M. Benett/Getty Images
Sure — it would've been nice to have a front-row seat at Mulberry. But if I hadn't been in the fifth row, I wouldn't have tripped up the steps on my way there, stumbling in a very undignified manner in front of the world's most glamorous people. This way, I got minor foot pain plus some great new material for my forthcoming autobiography: A History of Mortifying Incidents (chapter heading: Trips I've Known and Loved).
But back to Mulberry.
So, who did sit front row at one of the most high-profile shows of the week? Most notably, Kate Moss, who's made a late appearance in London after a holiday in Ibiza. Sharing her bench were actress Rebecca Hall (who is astonishingly beautiful in the flesh), Alexa Chung, Lana Del Rey, Olivia Palermo, Gillian Anderson, Romola Garai, Atlanta de Cadenet, heptathlon gold medalist Jessica Ennis, Elizabeth McGovern, and Joanne Froggatt (that's Downton Abbey's Cora Crawley and Anna Bates. Yes, Mulberry seated a countess with a maid. The dowager won't be happy).
Before the show, we walked through a reception room at Claridge's, where the floor was carpeted in AstroTurf and dotted with garden gnomes. These unnerving little fellows (each about a foot tall) were everywhere, lined up in rows and painted in hues reminiscent of a box of macarons: mint, biscuit, raspberry, and apricot. There were also beautiful cakes on display, with thick white frosting and layers of sponge in the same pretty colors. Slices were boxed up and handed out — they looked delicious, but I'll get back to you about how they taste.
In the (also AstroTurfed) ballroom where the show would be held, chandeliers gave off a regal air and overflowing garlands of roses formed an arch at the entrance to the runway. Lurking among the flowers were green geckos, hinting to one of the motifs of the collection. The show notes described the setting as "an irreverent English garden."
And now, the clothes. For me, the stars were the oversize biker jackets and leather peacoats, any of which would be a perfect complement to a cocktail dress and heels. The frayed mint tweed biker with exposed gold zips was a stand-out, as was the white leather biker printed with hundreds of tiny geckos (told you they'd be back). A waxed leather navy peacoat would look fabulous over a sharp, androgynous office look.
But there were also some beautifully feminine dresses. Inspired by seventies silhouettes, they were either floor-sweeping or below the knee, and they felt light, soft, and dreamy.
The Willow Tote was the new focus of the accessories collection; it comes with a front pocket that can be detached to become an envelope clutch, which is just the kind of good sense your Nana would approve of (if your Nana had a taste for expensive luxury leather goods). The gecko motif also reappeared on Alexa and Del Rey bags.
But if you didn't warm to the beautiful bags, the desirable outerwear, or even the rainbow cake, there was still one more thing to thaw your icy heart: a black poodle was walked down the runway in its very own jacquard peacoat. The model holding its leash had a difficult job trying to persuade it to turn 'round at the end — maybe like the inhabitants of the front row, it was enjoying the attention.