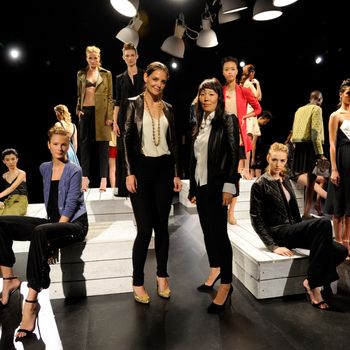 Katie Holmes and Jeanne Yang.
Photo: Kevin Mazur/Getty
Katie Holmes and Jeanne Yang's clothing label, Holmes & Yang, made its Fashion Week debut today at Lincoln Center. The collection, which featured slouchy blazers, leather jackets, slim black trousers, and one sexy black bra top, was presented on fourteen models standing and sitting on series of white cubes. But no matter how much people pretended to be interested in the clothes, the main attraction was obviously Holmes herself, who told InStyle, "We as women spend a lot of money on clothes … they better make us look skinny and hot." (Points for honesty?) The Times's Eric Wilson was less than impressed, though, titling his tepid review, "Really, We're Just Here to See Katie."
He writes:
[I]t was all perfectly commercial, but none of it added up to a statement. That seemed a missed opportunity, given the fickleness of fashion. You don't get that many shots to make a splash at Fashion Week. So why did they want to?
We don't really need to answer that question, do we?
Related: Katie Holmes's Next Career Move: Fashion!