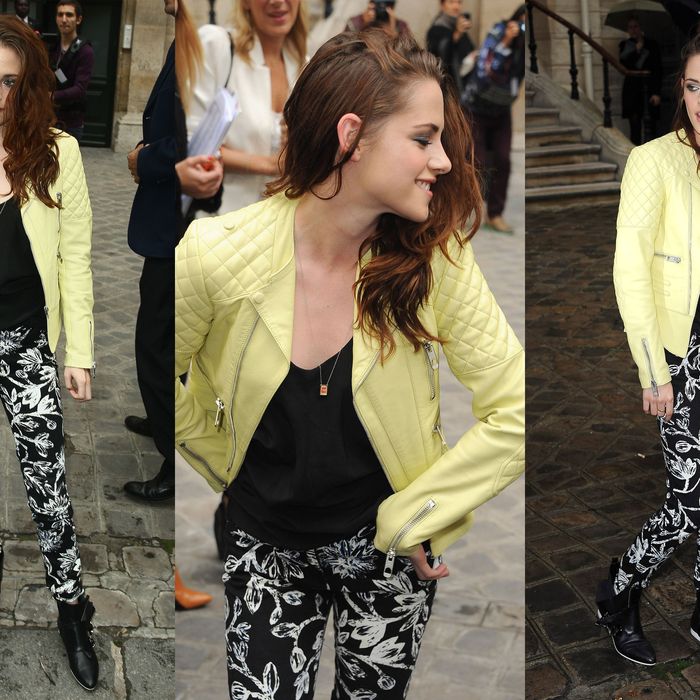 Photo: Francois Durand/Getty Images
The best thing to come out of Kristen Stewart's Balenciaga contract is, without a doubt, all the wonderful pants it has afforded her. She's previously fulfilled her endorsement duties by wearing fanciful yellow Balenciaga trousers sprinkled with a blue floral pattern while promoting On the Road in Cannes; she also wore some perplexing black leather leggings to the label's show in Paris last season. So we had high hopes for the outfit she was cooking up for today's appearance at Nicolas Ghesquière's spring show, and lo, her choice of legwear blew our expectations out of the water. Indeed, these black-and-white flower-print pants, paired with that butter-yellow quilted leather jacket and pirate-slash-Beatle boots, are a true gift on this rainy Thursday morning.
What's more, she loved this outfit so much that she kept it on for the Balmain show five hours later. Here she is, reveling in her graphic florals: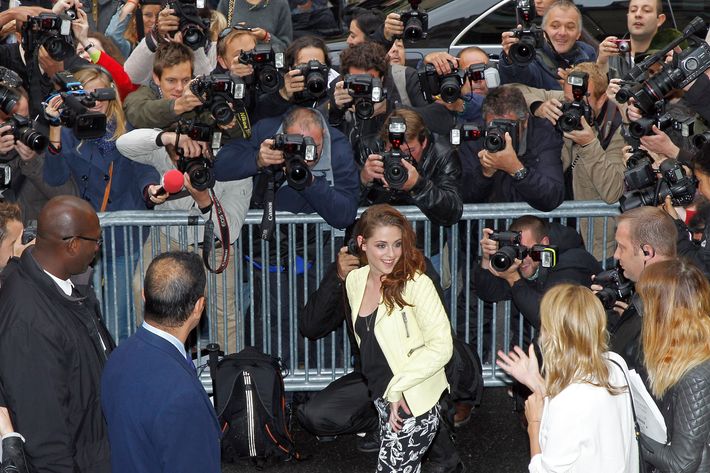 And finally, please note that she is still wearing the purported Robert Pattinson love token necklace.
Related:
How Kristen Stewart Will Travel to the Balenciaga Show in Paris This Week
Exclusive Video: Kristen Stewart Talks Fashion, Balenciaga
Kristen Stewart Actually Smiled Last Night