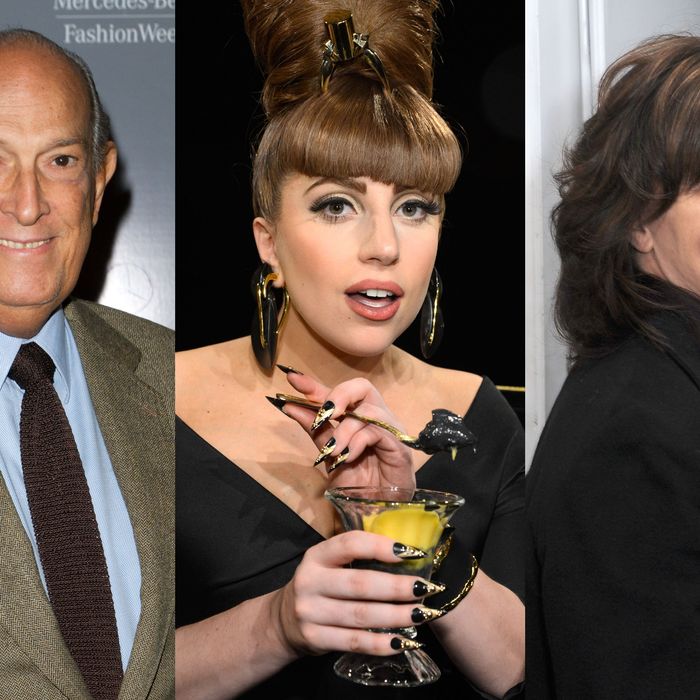 Oscar and Gaga versus Horyn.
Photo: Getty Images
In the wake of Oscar de la Renta's rather overwrought conflict with Times critic Cathy Horyn last week, Lady Gaga has chosen sides. (Backstory: In Horyn's review of De la Renta's spring 2013 show, she likened the designer to a "hot dog," meaning someone who showed off his tricks, and he misinterpreted it as a personal insult and placed a full page ad in WWD to air his grievance.) Gaga, who has also been the subject of Horyn's candid examination and subsequently fought back in her V column, is obviously on team De la Renta. She tweeted yesterday at his PR executive, Erika Bearman: "@OscarPRGirl Bravo Oscar. Only you would be so chic as to purchase an entire page in WWD, making statements like a good fashion citizen."*
WWD noted the exchange this morning, and chalked it up to a personal grudge on Gaga's part. It's too bad, really, that Gaga didn't see how silly the Horyn versus De la Renta argument (which really seemed to boil down to a misunderstanding on his part) had been. Indeed, Horyn's past digs at Gaga were a much better example of actual negative criticism: Last year, Horyn panned Gaga's "Edge of Glory" video and publicly unfollowed her on Twitter, likening the action to "a skiff breaking from its moorings. Goodbye!" Gaga, like De la Renta, launched a written counterattack in her V column last September:
In the age of the Internet, when collections and performances are so accessible to the public and anyone can post a review on Facebook or Twitter, shouldn't columnists and reviewers, such as Cathy Horyn, employ a more modern and forward approach to criticism, one that separates them from the average individual at home on their laptop? … Why do we harp on the predictability of the infamous fashion critic? The predictability of the most notoriously harsh critics who continue writing their notoriously harsh reviews? Why give the elephant in the room a peanut if it has already snapped its trunk at you? That peanut was dead on arrival. To be fair, Ms. Horyn, the more critical question to ask is: when did the pretense of fashion become more important than its influence on a generation? Why have we decided that one person's opinion matters more than anyone else's?
Perhaps one person's opinion retains its gravity when it is written and, when it draws controversy, is soundly defended.
Related:
Oscar de la Renta Won't Ban Cathy Horyn Over This Hot Dog Silliness
Oscar de la Renta and Cathy Horyn Trade Medium-Rare Insults [Updated]
Lady Gaga Makes Cathy Horyn the Luckiest Girl in the World
Cathy Horyn Didn't Like Lady Gaga's New Video Outfit Either 
* This post has been corrected to show that Gaga's tweet about Oscar was not actually deleted. Clearly we needed more coffee this morning.