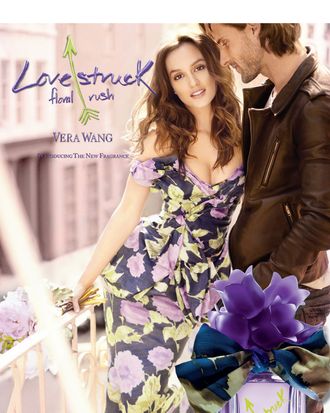 Leighton Meester for Vera Wang.
Photo: Courtesy of Leighton Meester
Leighton Meester has been the face of Vera Wang's Lovestruck fragrance for well over a year now, and now she's fronting their latest scent, Lovestruck: Floral Rush (as you might have guessed, there are floral notes). We got to chat with Leighton over the phone yesterday about her latest projects (no, she's not starting a fashion line) and whether she'll do something drastic with her look when Gossip Girl ends. 
Now that Gossip Girl is ending and you're lining up your next projects, are you possibly considering your own clothing or cosmetics line?
If I were to think about that, it would be a very long time from now. I'm not at the moment. 
When you never have to be Blair Waldorf again, are you going to make a big change? Like how Emma Watson cut all her hair off when she finished Harry Potter?
Yeah. I haven't really been able to change my hair for six years — and I used to do it all the time, so I think if the mood strikes me, I'll cut my hair or dye it or try different things.
Oh? Do you have particular new hairdo in mind?
No, I haven't really planned it out. But at least I just know that there's a possibility that I can do whatever I want. It would probably coincide with doing a different part that required a different hairstyle. But I'm not necessarily planning on chopping my hair off or shaving my head as soon as I'm done with the show. 
You're a risk-taker on the red carpet — I can't think of many actresses who would wear a sheer jumpsuit. What do you take into consideration when you're dressing for an event?
I definitely like to have a story behind my look. I like it to be fun and exciting and different. But at the same time, I like to be comfortable. I would never sacrifice that for the sake of fashion. Obviously, shoes are a different story — you've just got to wear some uncomfortable shoes sometimes. But otherwise comfort comes first for me.
Do you use a stylist?
It depends. I've used a stylist on and off throughout the years because it's just so much easier. I can't imagine having to call each place myself and trying to pull looks and put it all together. It seems like a lot of effort, and I don't put enough importance on it to do it myself. I like the process to be easy and simple for me, with the least amount of stress, because I want to be able to just enjoy myself.
What about your off-duty time?
I live in New York, so I need something to walk in. You can't be walking around with something super-tight on. I'm definitely more of a flats person. I'm not a big fan of ballet flats, but I like wearing sneakers or a very low-heeled boot. I used to able to wear heels more, when I was younger, but then my body just started saying, "No."
You have a music career as well. How do you decide what to wear when you're performing?
When I've performed onstage, I definitely chose a look that goes along with the music. I love to be flowy and free and not wear any kind of binding clothing. I took a little tour in the spring of this year with my band — we did five shows along the West Coast — and I wore a lot of floral wreaths in my hair and skirts that I had bought in Thailand.