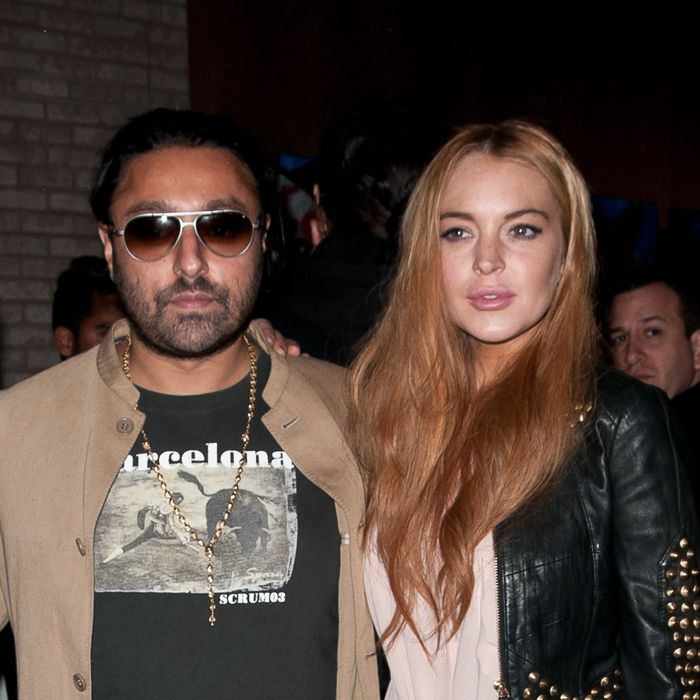 Photo: Thelonius / Splash News
Arrested for causing yet another vehicular incident — this time in New York and involving "clipping a pedestrian," a Porsche Cayenne, and an alley adjacent to the Dream Hotel — Lindsay Lohan raises two urgent questions: Who the hell drives a car in New York? And why the Dream Hotel?
The answers: Nobody, and Dream Hotel owner Vikram Chatwal, the LiLo benefactor pictured above. The Dream Hotel seems to be a Lohan disaster vortex, her new Chateau Marmont. Witness:
• Today's incident, in which Lindsay "was pulling in to park near the Dream Hotel," "honking to move people out of her way," when she "brushed up against the man." (Paparazzo?) When police later arrested her for "leaving the scene of an accident," she allegedly shouted, "Call my dad! Call my dad!" 
• A party crash that resulted in "a confrontation with the Indian model wife of millionaire hotelier Vikram Chatwal, just days after the troubled starlet and Chatwal were spotted kissing," almost exactly one year ago. Relevant quote, said "with obvious disdain": "You're his wife?"
• The Chatwal make-out pictures in question? Performed in front of an open window and believed to include "shady shit." This event took place at Chatwal's home, not his hotel, but apparently he turned his home into a hotel for her, "even installed her hairdresser in the baby's room."
• Another party crash, this time of Marc Jacobs's NYFW after-party, ending in LiLo getting "thrown out." Relevant quote, reportedly uttered "several times" by "event organizers": "It's not going to happen."
• And, for good measure, recent Dream-franchise disasters that didn't involve Lohan: a sexual-harassment lawsuit involving the word "fuckstick," a rape, a rape lawsuit, a business lawsuit.
*Dream Hotel representatives note some items from the last bullet point involve the Dream Hotel's Midtown location. LiLo was arrested outside the Dream Hotel's Chelsea location. Two hotels, each with its own life and woes. Sounds like The Parent Trap, of buildings.