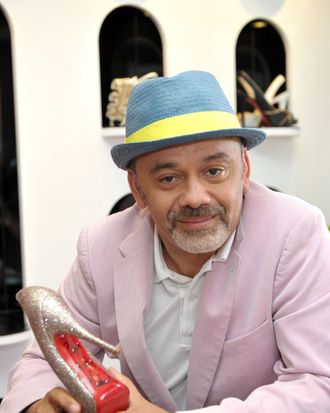 Christian Louboutin and his beloved red soles.
Photo: John Shearer/WireImage
Oh, hey: Christian Louboutin won his shoe lawsuit after all, sort of. WWD reports that a New York federal court of appeals upheld the designer's red sole trademark today, overturning a decision made over a year ago by Judge Victor Marrero that denied Louboutin's request for a preliminary injunction against YSL's all-monochrome design featuring scarlet outsoles. There's one caveat, though: When the shoe itself is red, as YSL's was, the trademark doesn't apply. So everyone wins! A rare thing in fashion (and lawsuits) indeed. 
Related:
Don't Step on My Red-Soled Shoes!
Christian Louboutin Lost His Case Against Yves Saint Laurent's Red Soles
Louboutin's Appeal Keeps Their Red Sole Trademark Safe for Now