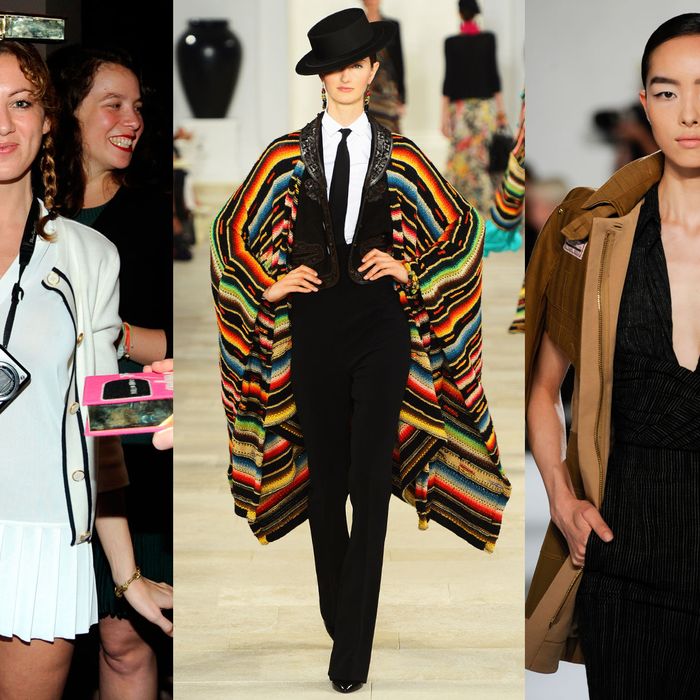 Photo: Joe SchildhornPatrickMcMullan.com, Frazer Harrison/Getty Images, Arun Nevader/Getty Images
Hey, kidz, guess what? New York Fashion Week, that cavalcade of fun and excitement, has drawn to its inevitable close, which means it's time for our first-ever semiannual fashion awards — the Lynnies, if you will. Competition was fierce, but only the outstanding contestants cited below will have the honor of slinking away, their invisible trophies hidden in the folds of their invisible gold lamé cloaks.
Best example of why French people are not like us:
Because they hit. At Zac Posen, Jennifer Eymere, a Frenchie, who with her mom was involved in a dust-up over seats, explained to WWD why she slapped a PR person: "I said, 'Don't speak to my mom like this. You have to stop to speak like that.' I said, 'Be careful, I am going to slap you,' and she kept doing it, and it just happened … It was a small slap. It was not strong … it was just to humiliate her. She humiliated my mom, and I humiliated her in front of her crew. Voilà. I just said at the end, 'Now you know you don't fuck with French people'" Update: The PR is reportedly suing for a million dollars. Somebody slap me, please.
Best floppy-eared accessory of the week:
No, not the earrings at Rodarte, but the gigantic rabbit handbag that opened Mandy Coon's show on the shoulder of a model clad in a fetchingly tiny leather shift — but who has eyes for a skinny mannequin when a leather lapin is on the loose?
Best collection for ladies who lunch who are old enough to remember Lydia Lunch:
Oscar de la Renta, in what is almost a punk moment (could this be a nod in advance to the Met's upcoming Costume Institute exhibit?) offering bright skirts that might be leather but turn out to be Johnny Rotten–worthy latex, and even a delectable bright pink pony-skin-fur suit.
Best item of clothing spotted in the audience that will never march down any runway:
The faux Chanel T-shirt on a female photographer at Billy Reid, decorated with a double C logo and inscribed with the deathless slogan "Classic Cunt." Runner-up: the guy at Cushnie et Ochs wearing ridiculously high mismatched platform sneakers, one black and one white.
Best blooper of the week that no doubt got some hapless intern so fired:
The inclusion of the model's shoe sizes on the Altuzarra run of show. Who would have guessed that Fei Fei wears a 41?
Best strange printed material on a fashion show seat:
A fold-out from Canon's "Project Imagination" at Marchesa, touting a photo contest, which reads: " … In this project, Georgina will select 10 winning photos submitted by the masses … " The masses? Is Svetlana Stalin entering the contest? Are the denizens of Occupy Wall Street, which was in our hearts and minds a year ago at this time, sending over snaps for consideration?
Best example of a tone-deaf geographical shout-out:
Ralph Lauren's show. The season before last, Lauren heralded China, which made perfect sense because, well, that's where the money is. But this time around, Ralph is obsessed with, of all places, Spain (he showed toreador pants with gold brocade and tassels, boleros, Matador suits, and Basque berets) where more than a quarter of the population is unemployed. What's next, Greece?
Best suggestion for a retail business that should follow Walgreens' lead and open a pop-up outside Milk Studios next season:
A bookstore! Remember those? Because you shouldn't be reading just The Daily before the shows start — you are (or at least used to be) a smart person! Maybe the Strand could set up one of its little kiosks and stock it with copies of Thorstein Veblen's  The Theory of the Leisure Class?