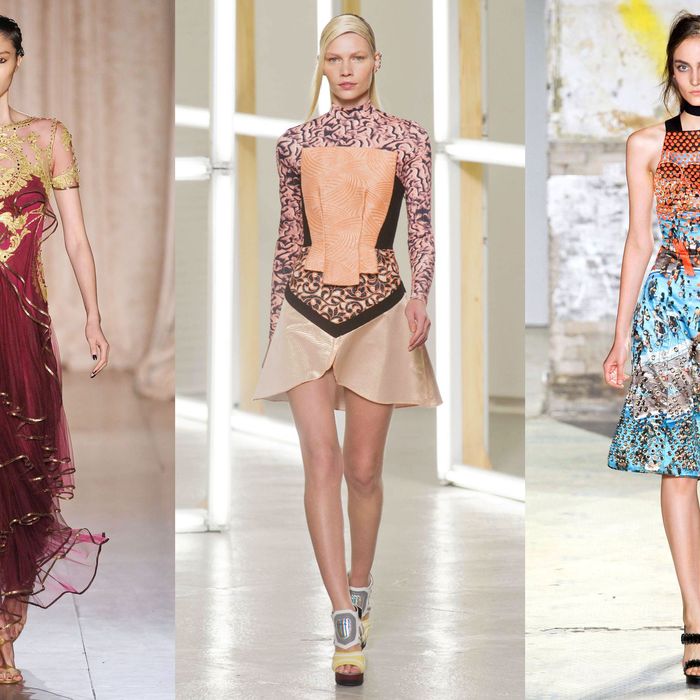 You might think that a chainmail dress featuring dangling miniature gold machine guns, coming on the day after September 11, when the Libyan ambassador and three other diplomats are killed, is a little dicey, but at Jeremy Scott's exuberant show, this symbol of transgression, has, believe it or not, a certain quirky charm. Scott otherwise occupies himself with Versace-esque prints that employ his signature, and sexy cow-printed overalls (four words that don't usually go together). But as Diana Vreeland once said, "A little bad taste is like a nice splash of paprika. We all need a splash of bad taste … No taste is what I'm against."
Which brings us to the Rodarte show. I will admit that I am not at all taken with the short Balenciaga-esque patchy dresses, the breastplates (I hate a breastplate), the crazy fringe jackets. I do kind of like the lace-up leather trousers and the peculiar snake earbobs, and I can appreciate the audacity of the proceedings, and a lot of my colleagues profess to love it, so who knows? Maybe a few months from now you will see me strolling around town with a vast fringy leather thing over my smock dress.
Or maybe I will lose the smock in favor of a Marchesa gown, where the fringe is so shiny and bouncy it might have been hacked off a thousand My Little Ponies' tails. There are beautiful earrings here, too, many of which seem to have been air-expressed from Gem Palace — the prevailing mood is a passage to India, expressed in hot pink and burnt orange ensembles encrusted with fake jewels, the best of which have a Liz-goes-ethnic-circa-1965 vibe.
Marchesa stages its show in Grand Central station at five o'clock in the afternoon, a major irritant to commuters who just want to get home to Westchester, and not be waylaid by Kim and Kanye. But only ghosts are disturbed at Five Beekman Street, the long-empty edifice where the Proenza Schouler show is held — this humongous relic, beloved of architectural historians, is known as "the abandoned palace" and boasts a spectacular atrium with frilly cast-iron railings and endless rooms, many of which have been empty and untouched for more than half a century. (Last spring the building was purchased for $64 million by a consortium that plans to turn it into a hotel and condo complex; one can only pray that its haunting decrepitude will at least be partially preserved.)
The Proenza boys, as people call Jack McCollough and Lazaro Hernandez (as they are both over 30, they are in imminent danger of aging out of this category), offer excellent versions of ideas that have been popping up on runways all week: scuba sheaths in bright hues; sleeveless patchwork jean jackets composed of black, white, turquoise, and green snake sections, and even an eerie, photo-printed sheath, whose pattern is made up of bobbing heads, and whose modernity is further underscored by the clever application of grommets where someone with rather less ingenuity might settle for studs.
See the Full RODARTE Collection
See the Full MARCHESA Collection