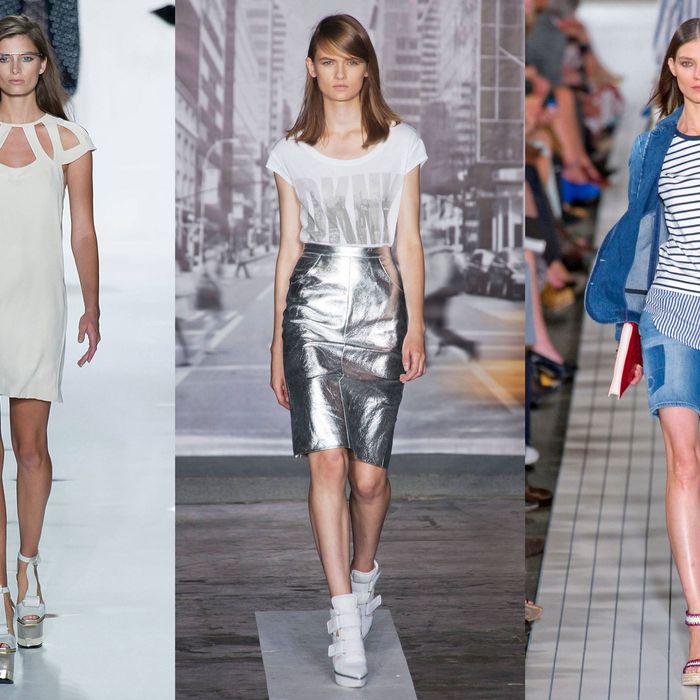 "What's a New Yorker? Someone who's ready for anything," alleges the show notes on the seats at DKNY, which is being held at Cedar Lake, a performing arts space owned by Walmart heiress Nancy Walton Laurie. "An endless possibility of expression. Just like the city." Um, okay, I guess. At this point, and it's only Day Three, I am one New Yorker who is ready for anything except yet another runway show, but maybe that's just me. In any case, DKNY delivers if not endless, then at least a lot of possibilities — ready-ripped jeans; shirts decorated with the DKNY logo made to look like that archival relic, the New York City subway token; and, most fetching, a straight knee-length silver leather skirt paired with a DKNY tee, which you could lose in favor of a top with a ribald sentiment more to your liking.
Those are either mirrored birds or horribly Botoxed lips dangling from the ceiling at Diane Von Furstenberg — one suspects the latter, since faintly Dalí-esque mouths decorate the invitation. Directly across the catwalk from me are a triumvirate worth getting out of bed for far less than $10,000 to see, each supremely stylish in his or her own way: the famously copper-hued Valentino, the ineffably chic Bill Cunningham, and the eternally man-suited Fran Leibowitz. (Well, in truth I am in the third row, and they are in the first, but who's counting?) 
As at DKNY, DVF clearly courts the mass market with an eclectic bag of tricks that relies this season on studs (a faint whiff of Balmain?), color blocking (alas, this has not gone away), and glittery paillettes in enthusiastic hues. At the end of the show, Von Furstenberg comes out on the arm of her designer Yvan Mispelaere and picks up a third wheel on her way down the runway — Sergey Brin of Google, which is the reason that all three of them are sporting nutty spectacles that have miniature digital devices attached, so you can peruse recipes, answer e-mails, or make a film with your eyeglasses while you're walking down the street, if that is something you have been dying to do.
Donna Karan clearly did not have the Japanese menswear designer Daisuke Obana's N. Hoolywood hooligans in mind when she wrote that puffy stuff about New Yorkers. At Obana's show, a paean to grunge and petty bad-boy vandalism, scarves obscure the models' faces, some of the guys carry spray-paint cans, and, as a coup de gras, the stringy-haired fellows track through a pan of tar as they hit the runway. It may sound dark and gloomy, but the plaid clothes have a quiet exuberance, the hats bearing the strange slogan "the Faith of Graffiti" feel charmingly naïve, and the whole affair lends a welcome blast of insouciance to what have been far too many staid proceedings.
The last show on Sunday belongs to Tommy Hilfiger and takes place up on the Highline. It's a beautiful night, Old Glory is waving over the Hudson, and Tommy sticks to the kinds of warm-weather clothes that New Yorkers — and plenty of other Americans — have relied upon for at least 100 years: yachting sweaters, navy blazers, stripy trouser suits, billowing silky dresses, more often than not offered in red, white, and blue. The fashions here may not break any new ground, but they are presented with an un-cynical cheerfulness, they don't cost a whole lot, and though it's finally the first cool night of the season, you suddenly find yourself longing for next summer.