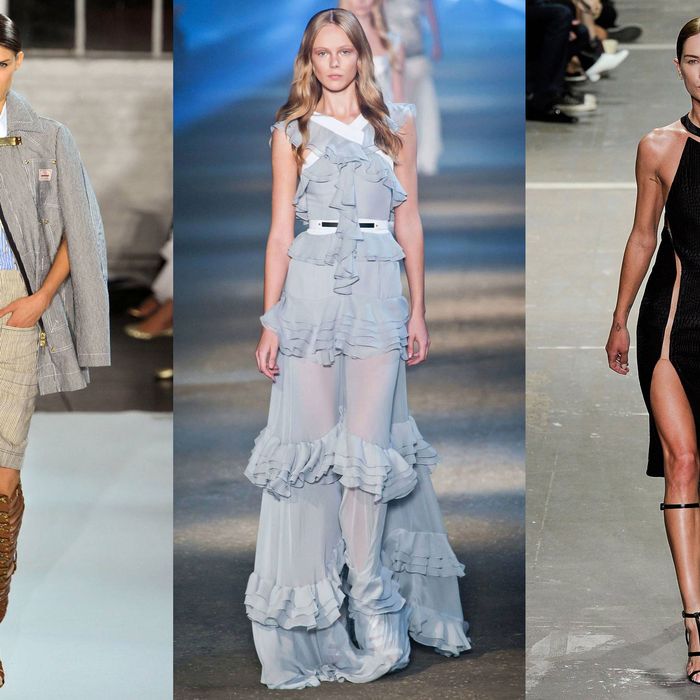 Reports of tornadoes sweeping through New York City have been greatly exaggerated, at least when it comes to Fashion Week. At the close of Day Two of this semi-annual affair, there have been perhaps a few sultry breezes, a few mildly disagreeable gusts, but nothing you would characterize as a tempest.
The aptly named duo behind Creatures of the Wind (at least for purposes of this metaphor), Shane Gabier and Chris Peters, offer a discourse on Americana — or maybe it just seems that way, coming as it does a mere twelve hours or so after President Clinton's dazzling disquisition at the DNC on Wednesday night. The suggestions here include a red, white, and blue tweed that turns out to super-thin plastic, pink chiffon with appliquéd yellow butterflies for an Appalachian spring so cheerful James Agee wouldn't recognize it, and one extraordinary dirndl embedded with Swarovski crystals which is stunning but reportedly as heavy as a budget deficit discussion, weighing in at around 15 pounds.
Prabal Gurung holds his show on Pier 57 at 15th Street, a former bus depot which — not-so-fun fact — was used as a makeshift detention center for protesters during the 2004 Republican National Convention. Gurung installs a long, long runway that is enveloped with smoke at one end (but no mirrors — or only the ones backstage) and sends out layers of chiffon in varying lengths that echo, albeit with a certain sophistication, the long-in-the-back-short-in-the-front aesthetic every teenager seemed to embrace this summer. There are mirrors but no smoke at Threeasfour, held at the in-felicitously named Hole Gallery on the Bowery. The venue reeks of incense — you might be in a college dorm circa 1968, queuing up your Iron Butterfly album — but thankfully the clothes don't look back. The aforementioned mirrors show up riveted to spectacular platform shoes  (sometimes the model wears one reflective boot instead) and the ensembles, with Threeasfour's trademark curved seams and elaborate construction, employ fabrics that include a surprisingly sporty purple mesh.
It's just too sad that you have no occasion to wear the crystal-embedded frocks that close Joseph Altuzarra's wonderful show, but surely you can find a role for one of his denim jackets? This iconic item (a wardrobe staple despite the fact that it can be infuriatingly ill-fitting), has been rethought and revamped by Altuzarra, who uses Osh Kosh B'gosh-esque fabric, slims down the silhouette, and occasionally adds a peplum, or even a puffy ruffle.
Though I am the first to acknowledge the power of his brand, I have long remained immune to the charms of Alexander Wang, so I am happy to report that his spring 2013 collection is, even for me, an extremely seductive exercise in black, white, and silver. Many of the dresses owe their sexiness not to being too tight (after all, what kind of design trick is that?) but to the exquisite employment of a dressmaking technique known as faggoting (not a slur! Look it up!). At the end of the show, the lights go down and the pale dresses on the runway glow in the dark, a triumph of chartreuse florescence. But in truth these frocks will be just as lovely in the clear light of day.