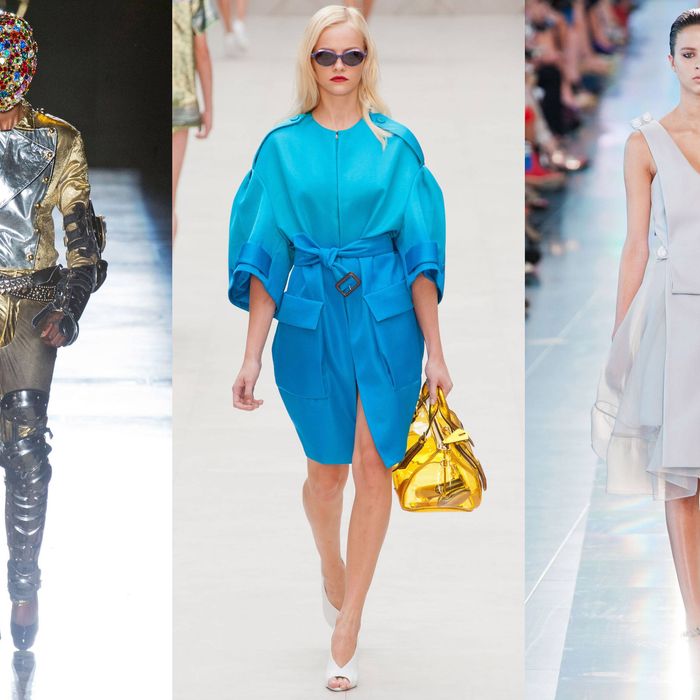 Who's that in the sparkle-helmet-slash-veil prancing out at the end of the Vivienne Westwood show, gamboling between two models who have unfurled a banner that reads "Climate Revolution"? Why, just as you suspected, it is Vivienne herself, which is confirmed when she whips off the tulle and you see her pale mug, crudely painted with face paint. Certainly the lady has never lacked for conviction, and if the show, despite the grass-green faces of some of the models, is a rather tame affair (lose the Peggy Olsen flip wigs and you have perfectly acceptable little outfits for the office) the nuttiness in the audience makes up for it — where else would you find an ashen creature of indeterminate gender in a floor-length ebony velvet cloak, and a sultry over-endowed blond (male?) with a ring that spells out CUNT along four knuckles?
There's a veiled visage at Philip Treacy's seminal show as well, and it belongs to Lady Gaga, who introduces the wild extravaganza by calling Treacy the greatest milliner in the world and explaining that all the clothes on the runway were part of Michael Jackson's wardrobe. The boast turns out to be justified; the headgear — which includes hats sporting working Ferris Wheels and hats that cover your features with a bright yellow smiley face — leaves the wildly eclectic audience (everyone from Dita Von Teese to Zandra Rhodes is in the house) for once genuinely stunned.
Christopher Kane is perhaps the cleverest designer today, if you measure this by an ability to take unpromising techno materials and elevate them with grace and skill. You know that plastic thing that holds the cans together when you buy a six-pack of Coke Zero? Well, something like that has been woven into a lovely pastel frock here. (If that's too much of a leap for you, white trapunto roses enhancing a white leather biker jackets are also a possibility.) Mary Katranzou, who specializes in prints and is getting a lot of attention lately, presents appealing floaty dresses printed with images of exotic blown-up postage stamps. (These were sticky things that you put on paper envelopes and, believe it or not, dropped in metal boxes on the street.)
Despite the booming music at Burberry, my lids are heavy, which could be chalked up either to (a) jet lag or (b) the fact that endless metallic raincoats in brassy colors induce narcolepsy. But I don't mean to say I don't like these shiny things — in fact, I prefer them to many other suggestions on this runway (turns out, I am not one for wool gabardine capes over swimsuits). Of the clear plastic Gladstone bags swinging from the models' arms, it must be said, they do have a certain jaunty freshness, but bear in mind: Elect to carry one of these next spring, and strangers on the street will be privy to the ancient hair-caked M&Ms that have taken up permanent residence in the bottom of your purse.