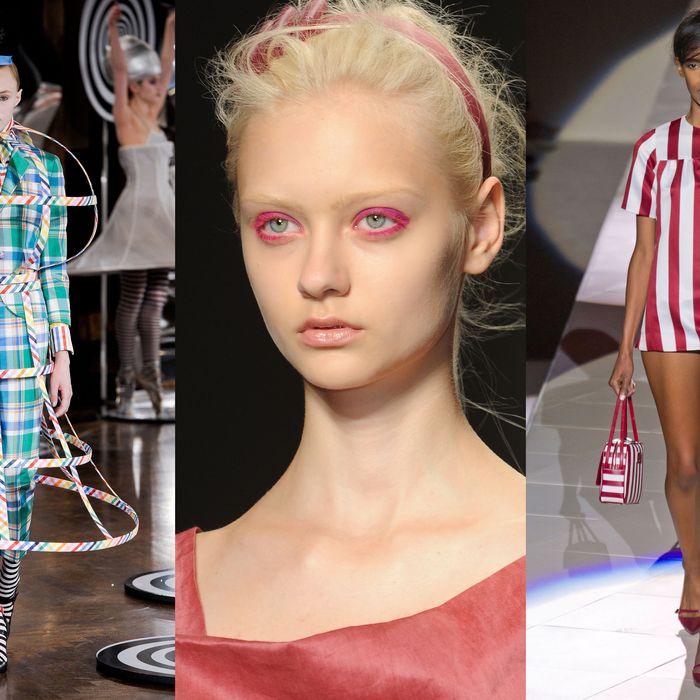 Call the doctor — conjunctivitis is spreading on the Donna Karan runway! Or maybe it's a collective desire on the part of the models to emulate bunny rabbits? In any case, the mannequins are sporting crimson-rimmed peepers, giving a whole new meaning to red eye. As it turns out, these scarlet orbs have a certain lapin-attractiveness, especially peering from above the lovely stone-colored frocks on the runway, many of which are demure in front and have open backs, an idea seen elsewhere this week, prodding people in the audience (well, okay, me) to ask, Are backs the new bosom? Though some Donna tropes remain firmly in place — bodysuits prominent among them — we are happy to say good-bye to the shell-beads and mud prints that have crowded DK's runways in recent seasons — it seems members of her imaginary tribe have packed up and headed for the big town to join the Junior League.
There's a crimson tide rising on Olivier Theysken's Theory catwalk as well, only here it glistens under the lights as henna highlights on the model's deliberately greasy-looking hair. Even at their most conservative, the somber combos on the runway seem intended for a bad girl who has been up all night and has to somehow get herself to the office the next day.
The only truly memorable jolt of red on 3.1 Philip Lim's runway, at least to this weary scribe, is the upside-down heart on the deconstructed "I heart Nueva York" T-shirt, stripped and reworked almost beyond recognition but still readable. Not everything here depends on a cleverly subverted slogan — a dress decorated with appliquéd plaid deer (you don't see these everyday) would be charming in any language.
If you want a striped pantsuit, in red or practically any other hue (because you don't think this will make you like you are on Lockup?), Marc Jacobs has one, or three, or nine, he would like to sell you. Points to Marc for not doing the same old thing over and over — he has firmly turned his back on neo-Victorian coats and Dr. Seuss hats and proffers something entirely new, even if this means a plethora of vertical lines only occasionally relieved by a leopard print. Jacobs emerges at the end of the show all covered up and wearing a suit, and though he looks great, we miss that transgressive kilt-wearing fellow of season's past.
The pinstripes at Thom Browne enhance the wired tutus of silver-slippered, striped-stocking-sporting ballerinas. In a beautiful room on the third floor of the New York Public Library, the designer continues his tradition of staging elaborate tableaux vivants showcasing his extraordinary surrealist-preppy clothes. (They are glorious, but are they for sale anywhere?) In the past, he has offered Sapphic flapper cocktail parties and spooky ladies rising from the dead, and this year beats all: The dancers wear spaceman helmets that might be made of tin foil and strike poses while a parade of ladies in confections that include sequined sea horses and tartan cages are escorted by Thom Browne–suited spacemen/gentlemen onto op art discs, and then the discs spin and, oh, never mind. If it all seems like a scene out the Salvador Dalí/Luis Bunuel 1929 film Un Chien Andalou, it provides a most welcome break from the cash-register-driven excesses plaguing so much of New York Fashion Week.